Historic District Downtown Building Inventory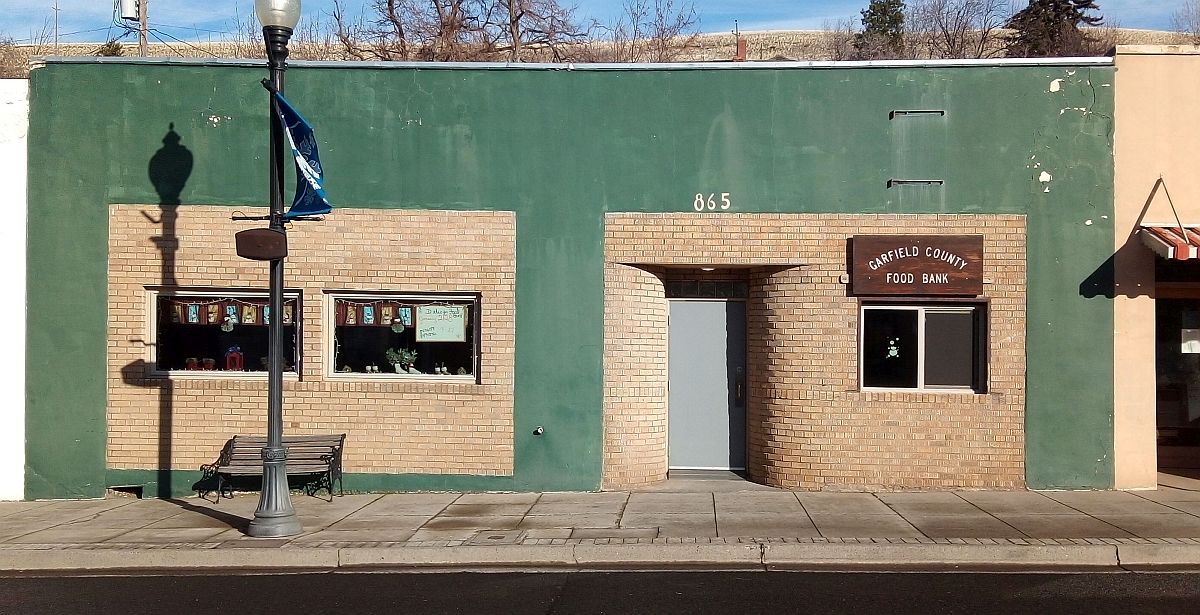 People's Market/O.K. Tire Shop (Site ID 18)
According to the 1922 Sanborn Fire Insurance Map, the site was vacant; however by 1930, a concrete building had been erected. Early occupants of the building included Bill Brammer and Wylie Parker's People's Market (1930s and 1940s), and Stanley's O.K. Rubber Welders (1948). People's Market moved in the late 1940's to the building just east of the Pomeroy State Bank near the corner of (then) 3rd and Main. The tire shop occupied the building until 1952 when the owner, Dick Stanley, constructed a new shop at 897 Main Street. The Pomeroy Aerie #3060 Fraternal Order of Eagles (F.O.E.) purchased the shop in 1952 and remodeled the building for use as a lodge hall.
The Eagles sold the building in 1996 to the Asotin County Mental Health Association. Planetary Pizza and a laundry occupied the structure at the time of the Historic District nomination. As of this writing, it is occupied by the Garfield County Food Bank.
Erected circa 1925, the one-story concrete building has a flat roof with a slightly raised parapet. The facade is divided into two bays separated by concrete pilasters. The storefront was redesigned in 1952 with the purchase by the Eagles, with brick storefronts and fixed-pane metal sash windows. The entrance door on the east bay has a curved wall that leads to a slightly recessed entrance. Originally, the building had transom windows above the storefronts and multiple entrance doors between the bays. This remodel reflects the 1950 Moderne style.
Cultural Data based on
research by Donovan & Associates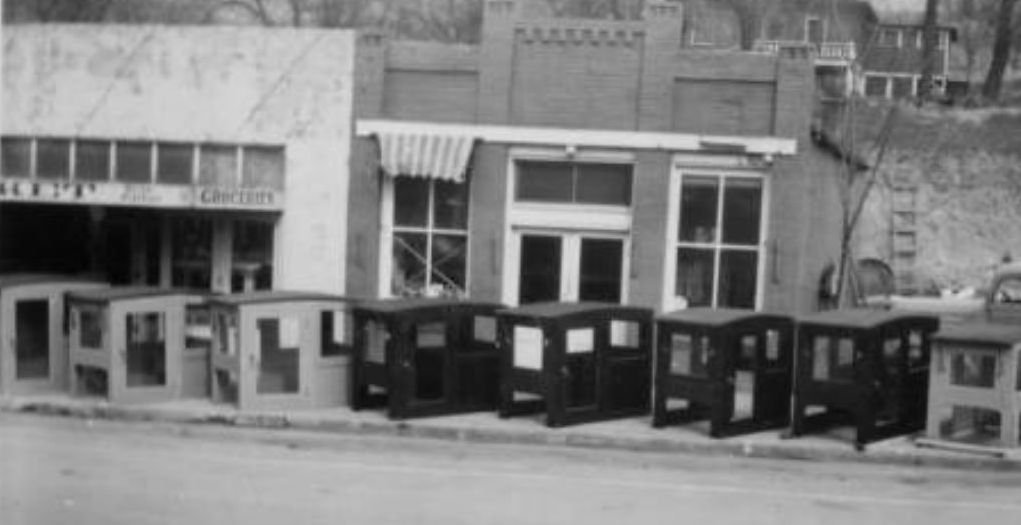 Prior to OK Rubber Welders this building house Peoples Market. That's a bit of them on the far left. (Photo and information courtesy of Bill Stanley.)

Sheldon Bowers sold this to Dick and Betty Stanley in January 1949. They built the building two doors to the east and moved in 1952. (Photo and information courtesy of Bill Stanley.)

From the September 5, 1957, issue of the EW, we learn of the new Eagles manager:
MOVE TO POMEROY
The family of Miller Jones has come to Pomeroy to make its home. Jones has been in Pomeroy for some time and is now manager of the Eagles club. Mrs. Jones and three children, a boy and two girls, ages 10, 12, and 15, come from Rogersville, Tennessee. This is their first trip west.
From the Year-In-Review of the January 1, 1981, East Washingtonian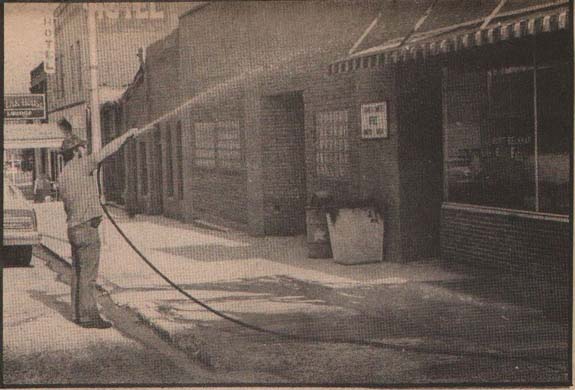 I put this picture here (as well as at Belknap Insurance) because it shows the Eagles Hall with the glass block windows.
Wandering Pomeroy's Main Street
This Web site has been financed by Castlemoyle Books and Gifts for the Pomeroy Historic Preservation Committee.
The Committee gratefully acknowledges donations of time, photographs, scans, and other
assistance from the Garfield County Museum and individual citizens of Pomeroy and Garfield County.

The Pomeroy Historic Preservation Committee
66 South 7th Street
Pomeroy WA 99347
Copyright © 2002-2022 John R. Gordon