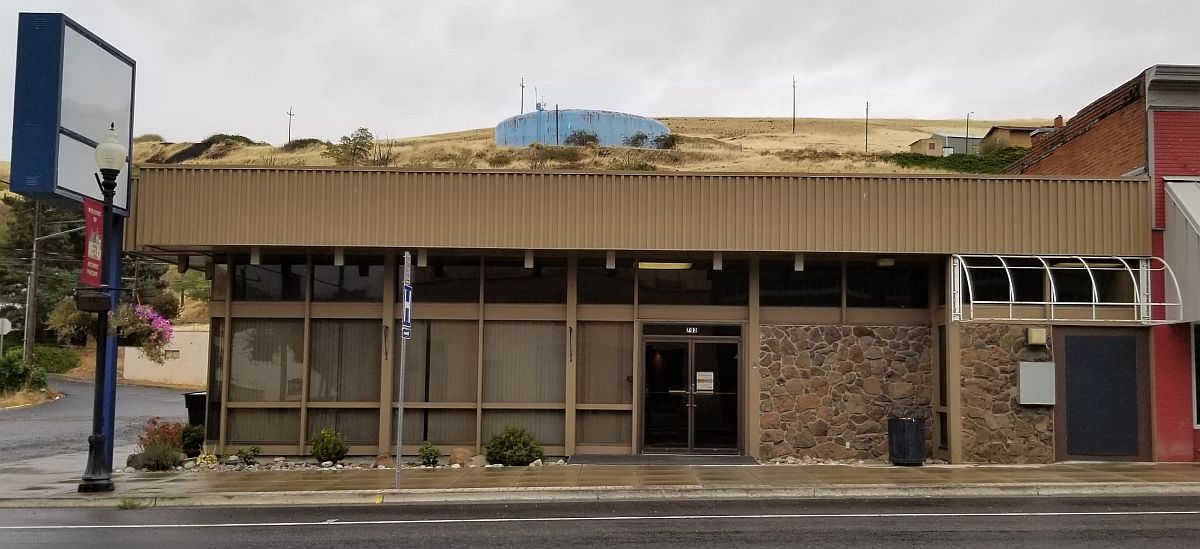 Downtown Historic District Building Inventory
Old National Bank of Spokane (Site ID 8)
Classification: Historic Non-Contributing
According to the Sanborn Fire Map of 1904, the western portion of this location was a millinary shop, the central portion was a harness shop, and the easternmost plot was a vacant lot.
The Pomeroy Savings Bank, erected in 1905, stood on the western third of this site. The bank was later called the Pomeroy State Bank and then the Old National Bank of Spokane.
The eastern part of this location (approximately 2/3 of the width of the current building) was the site for a number of retail stores. According to the 1908 Sanborn Fire Map, there was a store selling "furniture and carpets" here. From at least 1920 through 1936 the J.C. Penney company was located here. The last pre-bank occupant was the Peoples Market, which was demolished in 1969.
The Old National Bank of Spokane constructed the current building in 1969 and U.S. Bank purchased the building in 1987. U.S. Bank closed this branch in the summer of 2020.
The current one-story building, constructed in 1969, replaced two other commercial buildings originally on this site. The bank building has a flat roof, wide overhanging frieze decorated with metal panels, and tall windows separated by vertical boxed columns and horizontal members. The bays are articulated with alternating glass panes, rock veneer or T-1-11 panels. An automated teller was located on the south elevation.
Cultural Data based on
research by Donovan & Associates
Pomeroy State Bank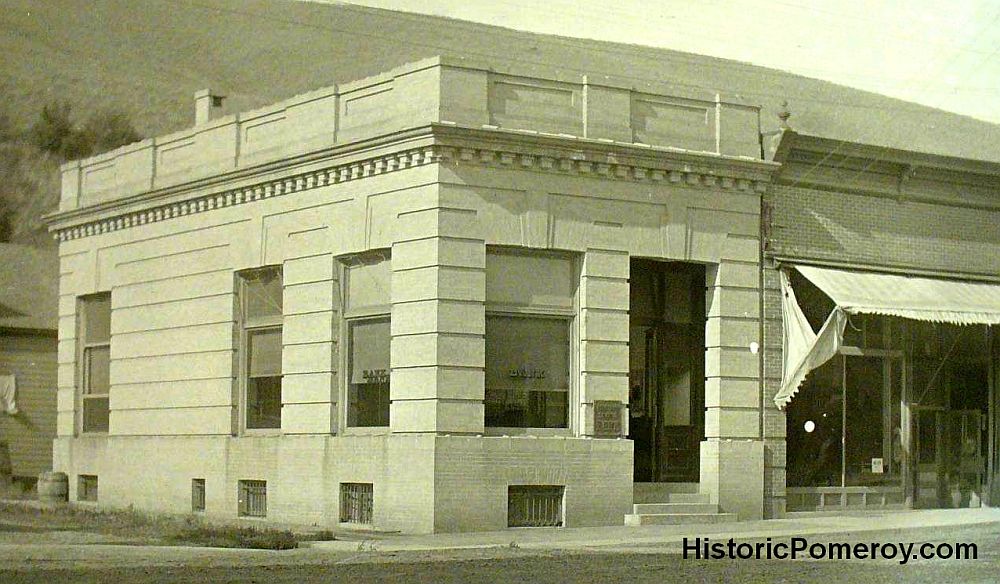 An early (1910) photo of the bank on the corner of what was Third Street. It looks like the Peoples Market needed to sew up their awning a bit.
Here's the bank with lots of vehicles. An early day "car show," perhaps?
1933, when you had to get the "bank officials" permission to spend your money:
Pomeroy State bank opened for business as usual Wednesday morning, following receipt of a license from the federal reserve department in San Francisco. There will be no restrictions except those imposed by the federal treasury department. Checks may be drawn against deposits in payment of current bills, but any unwarranted withdrawal, in the judgment of bank officials, may be held up pending the making of a statement under oath as to the purpose for which the money is wanted.
-- Down Memory Lane from March 20, 1958, looking back at March, 1933
Old National Bank
News of 1951 from the East Washingtonian "Down Memory Lane" of August 16, 1956.
Robert M. Grimm, formerly assistant manager of the local branch of the Old National Bank, returned to Pomeroy this week in the same capacity, replacing Floyd Swanson.
The front page of the March 27, 1958, East Washingtonian news of a promotion and a move:
Grandview Bank Position Given William McKay
William M. McKay, assistant manager of the Pomeroy office of the Old National Bank is being transferred to the Grandview office, Grandview, Washington, where he will serve as assistant manager, it was announced by Dewitt E. Wallace, president.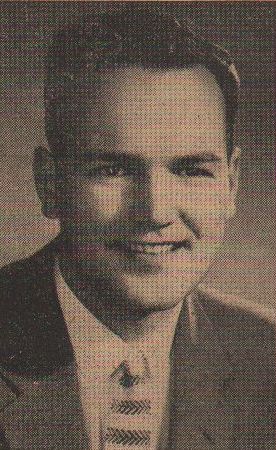 Thomas H. Bruce
McKay began his banking career at the First avenue office in Spokane August 2, 1954. He was transferred to the main office in Spokane for a time prior to his transfer to the Pomeroy office in September, 1955. He has been assistant manager of the Pomeroy office since October, 1956.
He was born in Spokane where he attended school and is a graduate of North Central high school. As a member of the U. S. navy, he served as a recruiter at the Naval Air Training station in Spokane from 1951 through 1953.
While living in Pomeroy, McKay has been active in civic affairs. He is treasurer of the Garfield county chapter, American Red Cross, secretary of the Garfield County Fair board and a director of the Junior Chamber of Commerce.
McKay and his family will be leaving Pomeroy around April 15.
Lester Van Dyke, manager of the Pomeroy branch said today that at this time there will be no personnel added to the present bank force. Now holding positions at the bank are Jerry Jordan, Beulah Ball, Mrs. Gene Savitz, Loretta Alden and Mrs. Ray Renzema.
Mrs. Renzema went to work on a part-time basis last week and will assume a full-time job on April 1.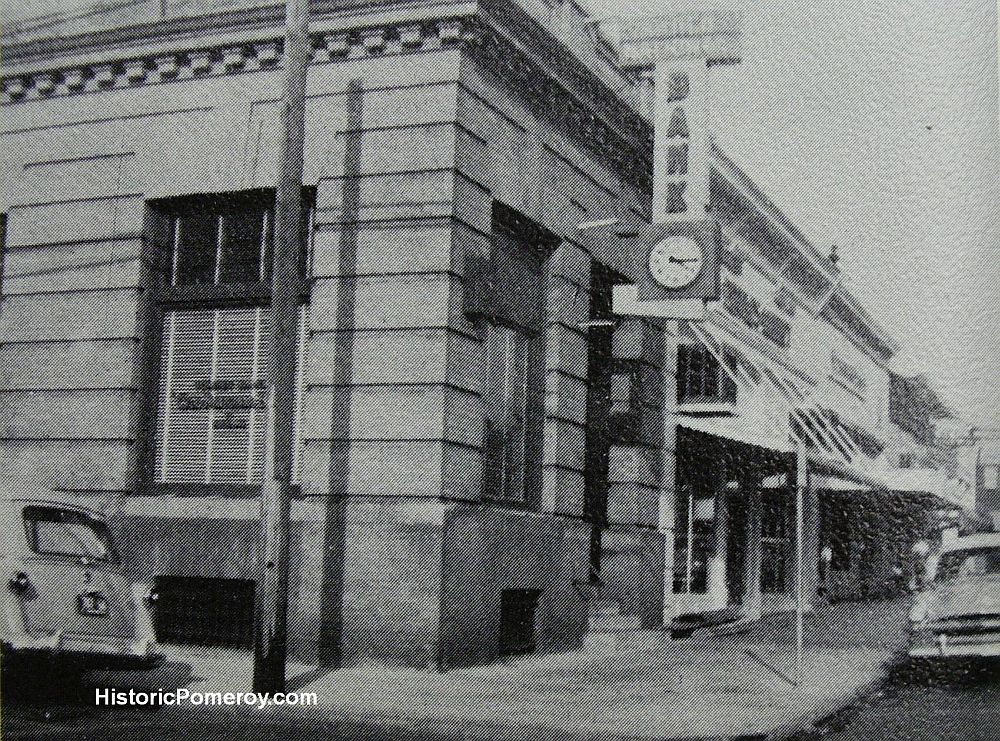 Only five minutes to go on an afternoon on Main street, Pomeroy, Washington.
In an article from a late December, 1968, issue of the E-W, we find how much the ONB building will cost:
Permit Granted ONB for $94,000 Bank Structure
Giving 1968 Pomeroy city building permit values a boost over last year's total figures was a $94,756.00 permit taken out in December by Old National Bank of Washington for a brick bank building on Main street.
[section trimmed]
The old Peoples Market building was torn down a few weeks ago in a matter of hours, and now footings are being poured for the new brick and block bank building which will be 56 feet square.
Main contractor is Inland Construction Co. of Spokane.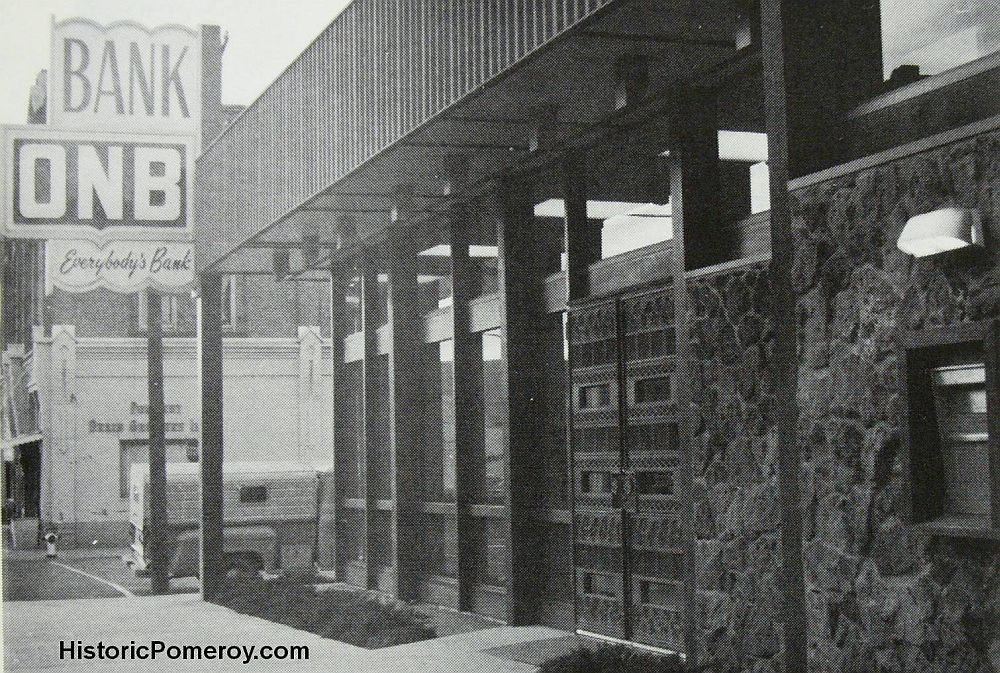 One of the first views of the new ONB Bank Building on the corner of 7th and Main streets.
From the ATM to about those lovely doors is where the Peoples Market was.
Good news for Jennie Odell according to the December 6, 1973, East Washingtonian:
ONB Promotes Jennie Odell
Jennie Odell became the first woman officer at the Pomeroy Office of the Old National Bank of Washington when she was promoted to Operations Officer in October.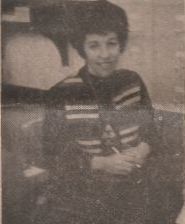 The new title makes her an officer in the corporation, although her duties at Pomeroy are little changed at present. She was formerly "operations supervisor," a position she had held for 2 1/2 years.
Mrs. Odell has worked for the bank for ten years, as of last June. She started as a bookkeeper, posting checks by hand, a position most banks no longer have since changes Jn procedures and the computer have eliminated this task.
Mr. and Mrs. Hazen Odell have three daughters: Mrs. Lloyd (Kathy) Roberts of Spokane; Susan Odell, working as a ticket agent for Northwest Orient Airlines in Spokane; and Denise, a junior at Pomeroy High School, Hazen is employed at the O. M. Scott & Sons grass seed packing plant in Pomeroy.
From the Sept. 26, 1984, E-W:
Carey completes course
Rod Carey, manager of the Old National Bank Pomeroy branch, has graduated from the Pacific Coast Banking School. He received his diploma after completing three years of study.
The program includes three annual resident sessions of advanced college level courses in banking, management and trust subjects at the University of Washington. The resident sessions consist of full schedules for six weeks of classes and evening program which are presented by a faculty of more than 60 educators, bankers, economists, lawyers and specialists from throughout the United States. Areas covered in the curriculum and extension assignments between resident sessions include functional responsibility, environmental forces affecting banking and the. economy, organizational theory, banking practice and management. Graduates must also submit an original research report on some aspect of commercial or trust banking in the third year of the program.
The Pacific Coast Banking School is sponsored by the bankers associations of 12 western states and the University of Washington Graduate School of Business Administration.
J. C. Penney Co.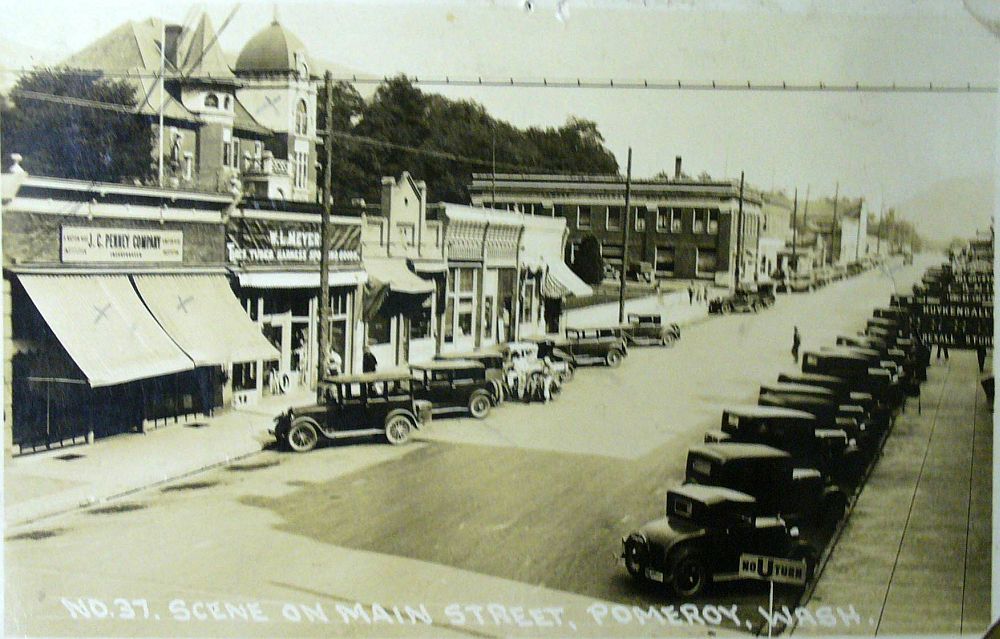 From the 1920's, they left plenty of parking in front of J.C. Penney.
Peoples Market
Seen in the "Down Memory Lane" column of July 29, 1971, looking back to 1941:
In a deal effected Monday, Wiley Parker sold his interest in the People's Markett his partner Bill Brammer. Mr. Parker was offered and accepted a job driving a Union Oil truck by McKeirnan Hardware & Implement Company, local agent for the oil company. Parker takes over the job formerly held by Henry Leaverton, who is now employed as a salesman at McKeirnan's
from "Down Memory Lane" column of December 6, 1973, looking back to 1968

Demolition of the old Peoples Market building to make way for new quarters for the Old National Bank is scheduled to begin next week.
Wandering Pomeroy's Main Street
This Web site has been financed by Castlemoyle Books and Gifts for the Pomeroy Historic Preservation Committee.
The Committee gratefully acknowledges donations of time, photographs, scans, and other
assistance from the Garfield County Museum and individual citizens of Pomeroy and Garfield County.

The Pomeroy Historic Preservation Committee
66 South 7th Street
Pomeroy WA 99347
Copyright © 2002-2021 John R. Gordon