Historic District Downtown Building Inventory
The A.D. Fox Building seen in its "painted glory,"" Spring 2021.
A.D. Fox & Sons, Pomeroy Downtown Historic District (Site ID 17)
According to the 1896 Sanbom Fire Insurance Map, a 30'x30' masonry structure stood on the site and housed the photography business of Almeron D. Fox. Fox arrived in Pomeroy in 1890 to start a photography studio and, most likely, erected the building around 1891. Fox enlarged (30'x40') his original studio by 1908. Fox operated the business with his son Jerry until his death in 1925. Jerry began managing the business about 1906 until the late 1920s when the business was liquidated. Jerry was a talented musician and organized the Pomeroy Band. His own band, the Fox Orchestra, often played for the silent films shown at the Seeley Theatre. Jerry Fox's career was cut short when an accident damaged his eyesight.
At the time of the Nomination, the building was owned by Alverna (Al) Godinez She later sold it to a couple who had an antique store in the front of the eastern storefront and a painting studio in the western storefront. They also resided in the back of the buildings. They left Pomeroy in the early 2010's and the building has remained vacant since.
The Fox Photography Studio, a one-story brick building, has a corbeled brick cornice covered with a skim coat of stucco on the east bay and a brick parapet (partially removed) on the west bay. Corbeled pilasters separate the two bays. The building has a projecting stringcourse above the semicircular one-over-one double-hung wood sash windows. Heavy hood molds above the windows and door on the east bay create an arcade effect. These window types were used in the pre-1900 buildings (#45 and #46) in downtown. The two entrance doors are made of wood panels. Most of the original brick was covered with stucco prior to 1948 to preserve the exterior surface.
Cultural Data based on
research by Donovan & Associates
From the June 7, 1979, East Washingtonian:
'Jerry Fox' meant photographs
A large selection of photographs are expected to be on display this Saturday for the pioneer association's annual meeting. Many of these photos probably would not be available if Almeron D. Fox and his family had not arrived in Pomeroy in 1890.
A.D. Fox opened a photography gallery soon after, he arrived and it remained in operation nearly 40 years—long enough for the name Fox to appear on many "historic old photos," as they are now called.
In 1890, photographers were few in number in the Northwest, so a photo gallery in Pomeroy was probably a matter of pride for many people. Like other photographers of the day, Fox and his sons used large, cumbersome equipment and made their photographs on glass plates. There wasn't any other practical way to do it—but the results were spectacular.
Photographers of the day maintained a gallery to display their work, in order to drum up additional photo business. The gallery was also a source of entertainment for the public, since people owned few if any photographs, and newspapers and magazines didn't have many, either.
The business was known as A.D. Fox & Son by 1898 when the gallery started advertising in the East Washingtonian. The ad read "All work guaranteed. Negatives preserved." In Sept. 1899, "Up to Date," was added.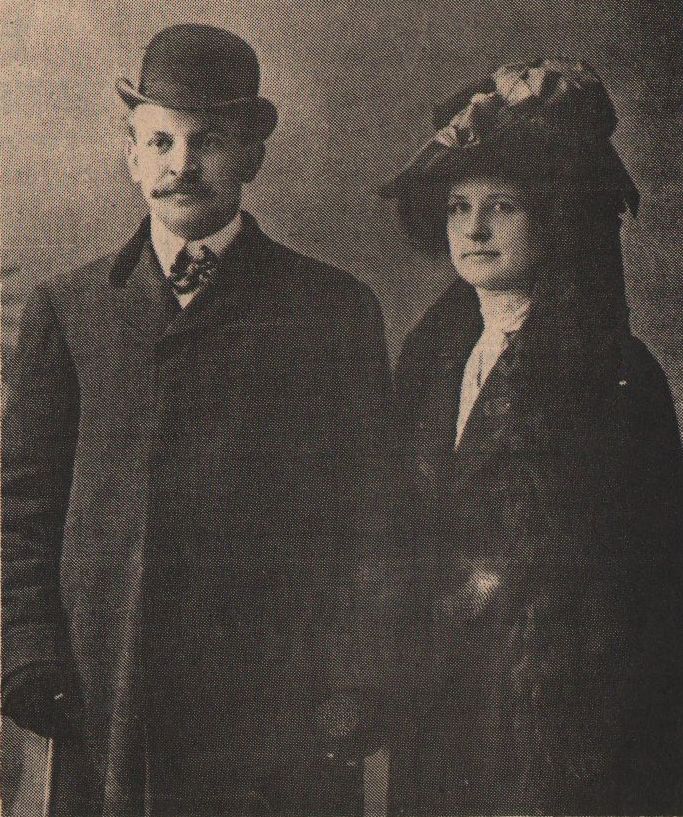 Jerry and Tricia Fox
The son was Fox's eldest Denny, who died in early 1904. A short time later, in June 1904, A.D. Fox's younger son Jerry joined him in the business. Jerry, born in Eau Clair, Wisconsin, on March 28, 1876, had spent six years in the U.S. Cavalry from Nov. 1894 to Dec. 1900, so wasn't involved in the business in the earlier years.
Eventually, he became the best known member of the family, operating the gallery under his own name from 1906 until approximately the late 1920's, when it was closed. His advertisement read: "Jerry Fox. Maker of photos that please."
Jerry was a pretty colorful character. A veteran of the Spanish-American War and the Philippine Insurrection, he studied harmony, counterpoint and arranging at the Presidio, and became noted as a song arranger. He was chief trumpeter for the Fourth Cavalry Band at Walla Walla. The unit won distinction among military bands.
He was in demand as a song arranger and band leader, and he even composed several songs. One, entitled "Hermosil-lo Waltzes," for military band, was filed for copyright with the Library of Congress on March 17, 1909. The document only includes the title. Members of the historical association have been unable to locate any of Fox's music.
Fox organized the Pomeroy Band which performed for Decoration Day, Fourth of July and other events, and also had his own Fox Orchestra, which played for some of the silent pictures at the Seeley Theatre, along with dances and political rallies.
According to Bob Beale, Fox was also one of the persons who was involved in the first Pendleton Roundup. Beale has a letter from C. Harris, manager and director of the roundup band, inviting Fox to come along on a trip to the Calgary Stampede. The letter, dated "Pendleton, Ore. 8/15/12, "reads: "Mr. J. Fox, Pomeroy, Wash. "Friend Jerry,
"I am taking the "Round up" Band of 25 men (mounted) to the Calgary "Stampede." Play Sept. 2-3-4-5-6 + 7th. Take our horses from here, have our own sleeper entire trip. Leave here Aug. 30th on No. 6 at 6:30 p.m. Return Sept. 10th. Pay $50.00 transportation and sleeping accommodation for the trip. You pay own means and fare from Pomeroy to Starbuck and return. This will be some nice trip and I would like to have you come along. Play solo cornet. Will wait until Sunday for answer. Uniform is any cowboy costume, chaps, etc., Answer quick."
Fox's music and his photo gallery came to quick end when an explosion left him nearly blind. He was watching the welding of a gasoline tank, supposedly empty, at Krouse's Machine Shop, when the tank exploded, causing serious injury to his eyes. He was forced to close the photo gallery and he became discouraged and discontented, so he broke his connection with all the music groups, as well.
Little was heard from him for the last 20 or so years of his life. He died on June 13, 1952. The elder Fox had died in 1925 and his wife in 1919.
With the proliferation of easy to use and relatively inexpensive cameras now available, it is doubtful that Pomeroy will ever have a photography gallery again. But having such a gallery in the 1890's and early 1900's was important. Some of Jerry, Denny and Almeron Fox's photos are still around and without them some of the county's historic times might never have been recorded on film.
Wandering Pomeroy's Main Street
This Web site has been financed by Castlemoyle Books and Gifts for the Pomeroy Historic Preservation Committee.
The Committee gratefully acknowledges donations of time, photographs, scans, and other
assistance from the Garfield County Museum and individual citizens of Pomeroy and Garfield County.

The Pomeroy Historic Preservation Committee
66 South 7th Street
Pomeroy WA 99347
Copyright © 2002-2022 John R. Gordon