Vacant since 1930. Currently (2021) used as a car lot for Farm & Home across the street.
Historic District Downtown Building Inventory
Vacant Lot (Site ID 49)
640 Main Street

This resource is currently a gravel parking lot with curb-cut at sidewalk.

According to the 1896 Sanborn Fire Insurance Map, the post office and IOOF Hall stood on this site, and by 1922, three small buildings occupied the lot. The site was vacant by 1930, and is now used for parking.

Description and much of the Cultural Data based on
research by Donovan & Associates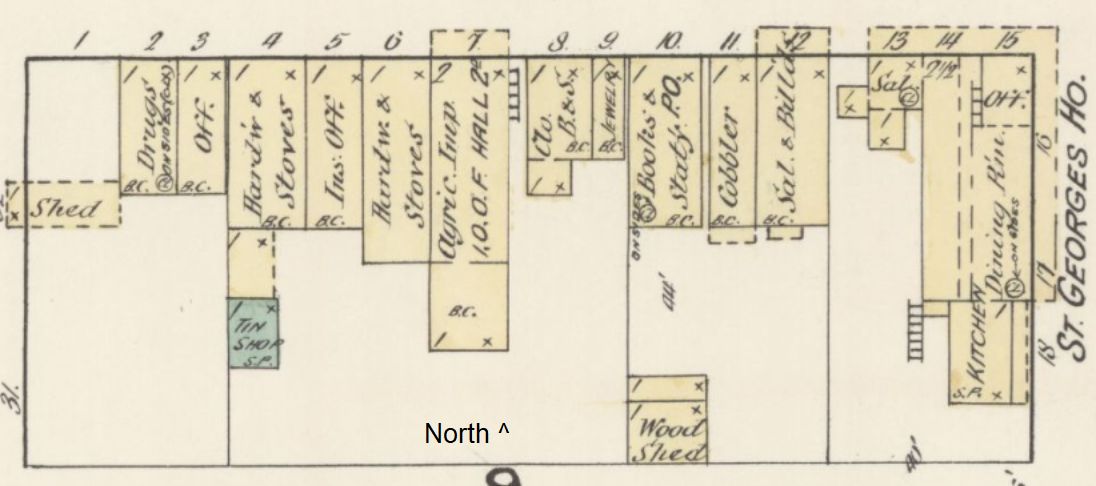 Looking at the 1888 Sanborn Fire Map for this section of downtown, it looks like the
Wandering Pomeroy's Main Street
This Web site has been financed by Castlemoyle Books and Gifts for the Pomeroy Historic Preservation Committee.
The Committee gratefully acknowledges donations of time, photographs, scans, and other
assistance from the Garfield County Museum and individual citizens of Pomeroy and Garfield County.

The Pomeroy Historic Preservation Committee
66 South 7th Street
Pomeroy WA 99347
Copyright © 2002-2021 John R. Gordon