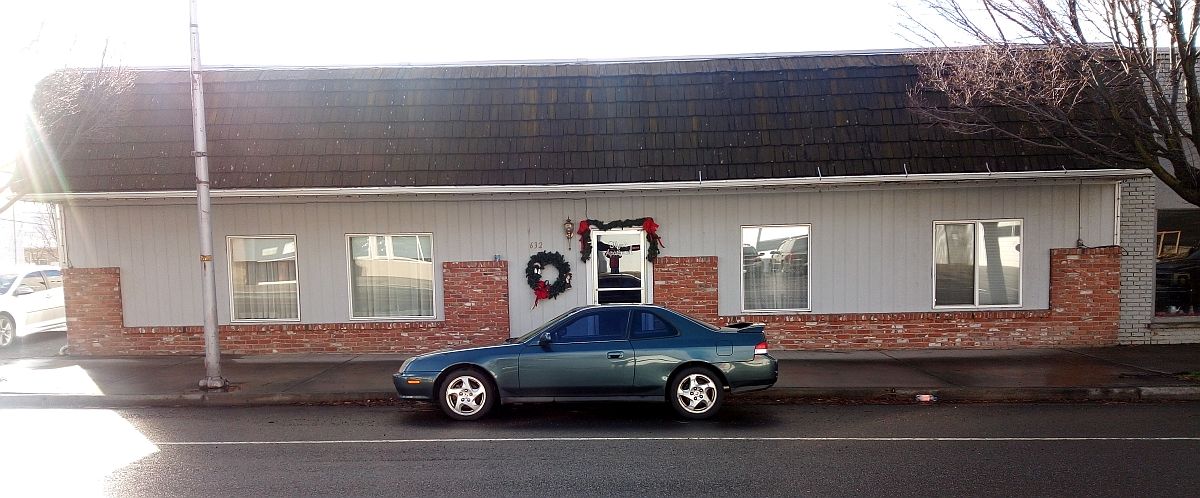 Built for Farm & Home, later became Pete's Hardware, now (2021) Flynn's Apartments
Historic District Downtown Building Inventory
Herres Farm & Home Supply Building (Site ID 50)
Classification: Historic Non-Contributing
632 Main Street

According to the Sanborn Fire Insurance Maps, by 1896, three small buildings on the site housed a tin shop, harness business, and a store. In 1922, a barber/bathhouse, electric battery service station, and Shawen's Feed and Poultry Store stood on the site. By 1930, only the feed and poultry store remained.

Ferd and Swede Herres started construction on a new concrete block building on the site in 1945 for use as a Firestone store, and Farm & Home Supply store. The building was finished on 1 April 1946. Later uses of the building include Pete's True Value Hardware and teen center. Lonnie and Donna Flynn purchased the building around 1992 and converted the structure into apartments.

Description and much of the Cultural Data based on
research by Donovan & Associates
Shawen's Feed Store
Shawen's Feed Store advertised regularly in the E-W. The advertisements were generally 2 columns wide with not much text. Here's a sampling.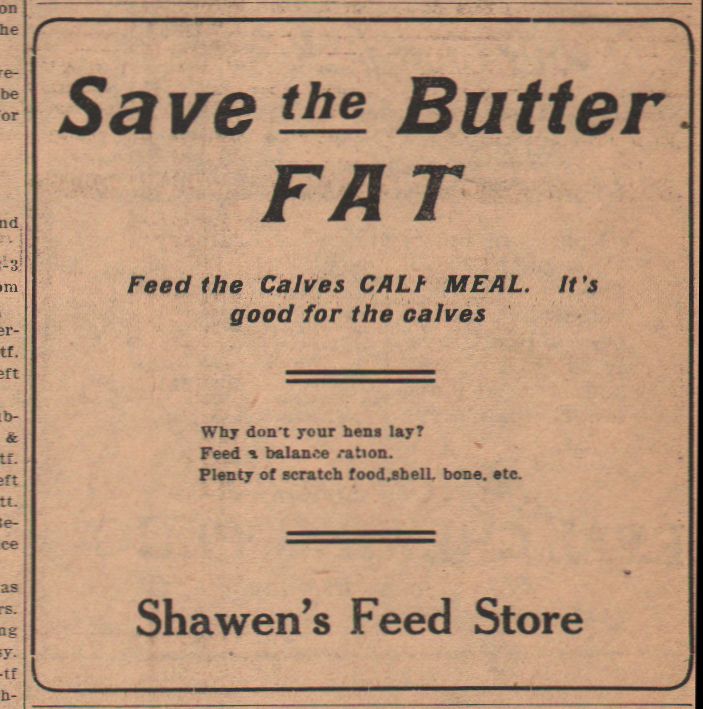 March, 1919.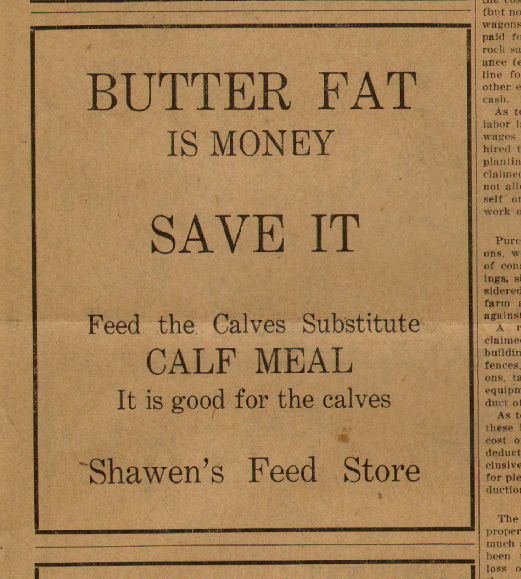 Summer, 1919.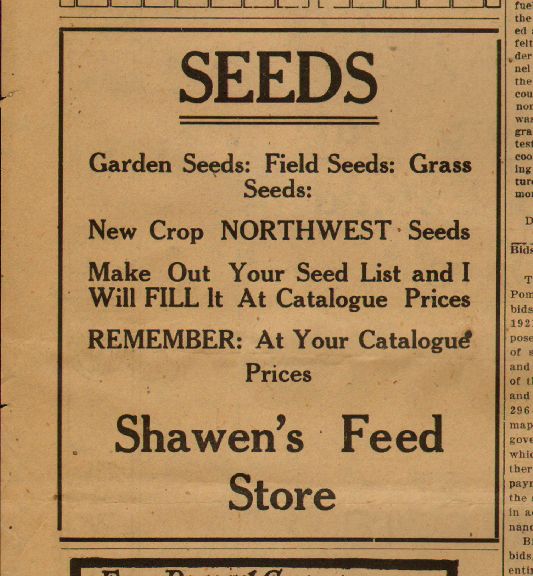 1921.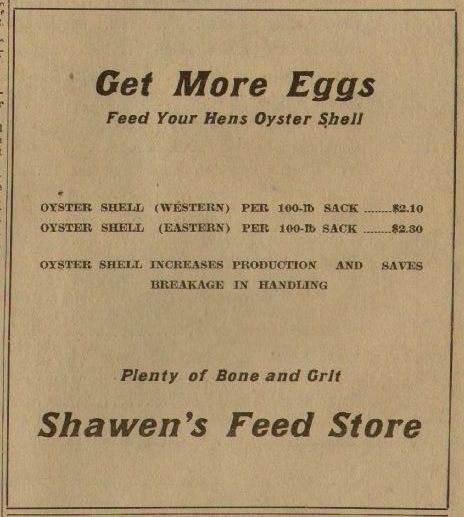 October, 1922.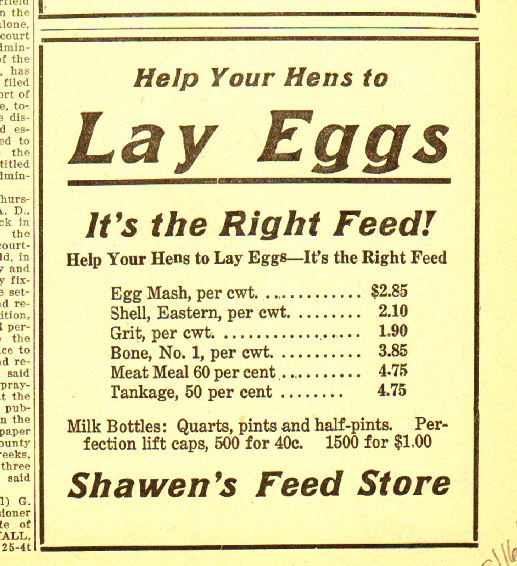 August, 1924.
Summer, 1936.
Farm and Home Supply/Firestone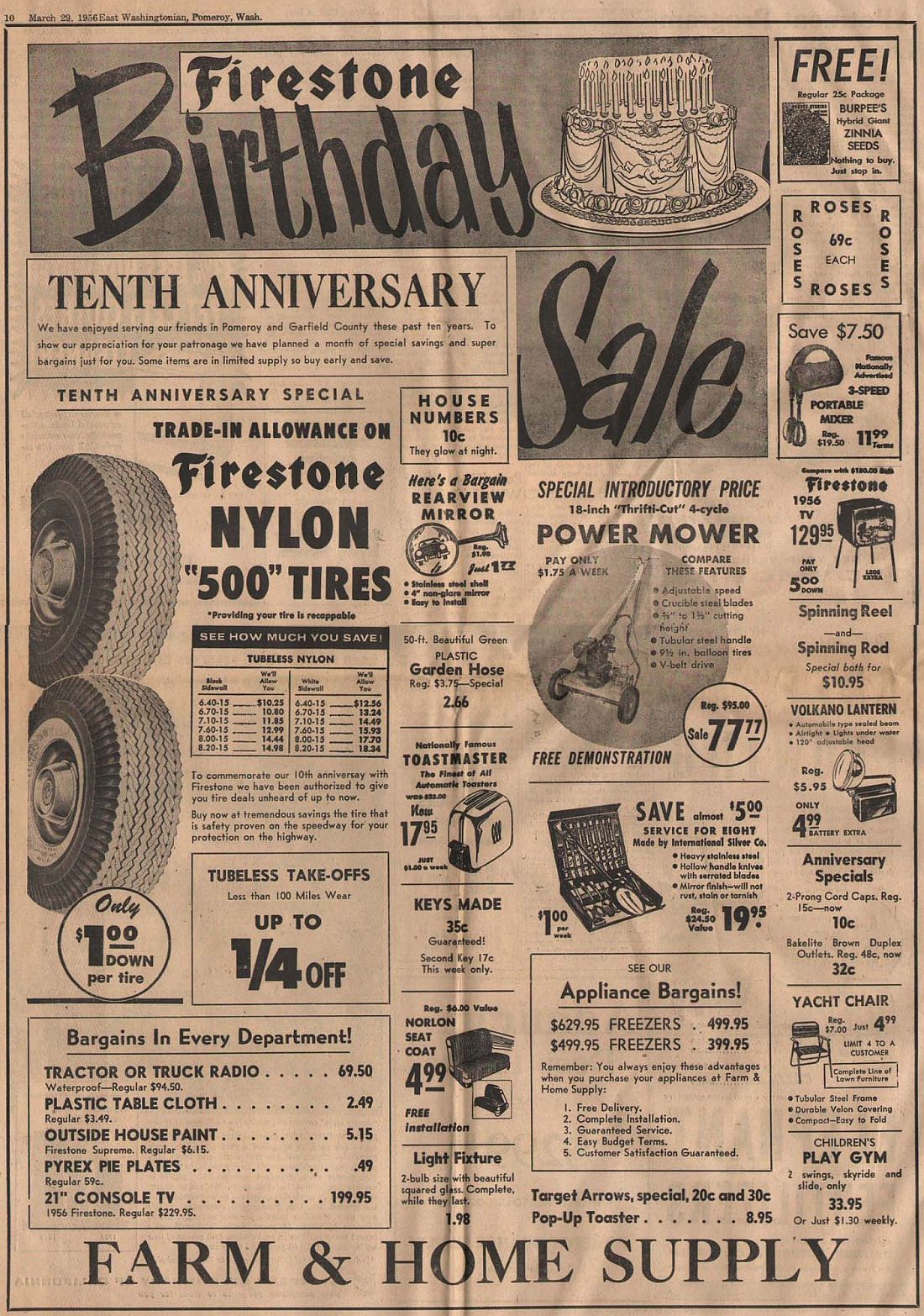 Farm & Home Supply celebrated their 10th Anniversary in February, 1956, with this page of specials in the East Washingtonian.
A short article in the November 24, 1960, newspaper told us:
Herreses Win Honolulu Trip
Mr. and Mrs. Ferd J. Herres, of Farm & Home Supply, were notified that they have qualified for a trip to Hawaii to attend the J. I. Case World Premiere and Dealer Sales conference.

The 10-day trip to the Honolulu business meeting is awarded to dealers of the Racine, Wisconsin manufacturer of agricultural and industrial tractors and equipment, whose sales for 1960 have met an increased sales standard established by the company. Case dealers from throughout the world will view films on new equipment and participate in discussions on the latest marketing and sales techniques. The dealer meetings will start Dec. 6.

Purpose of the meetings, Herres said, is to recognize the most productive dealers while giving them an opportunity to familiarize themselves with new programs for sound business and service practices which will better serve Case customers.

>
Pete's Hardware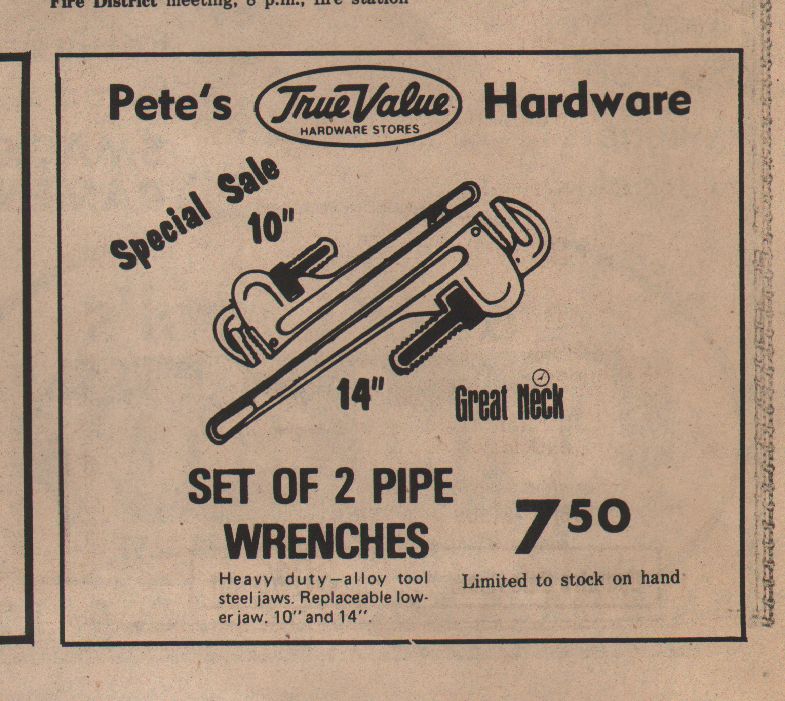 You'd expect to find wrenches at a hardware store.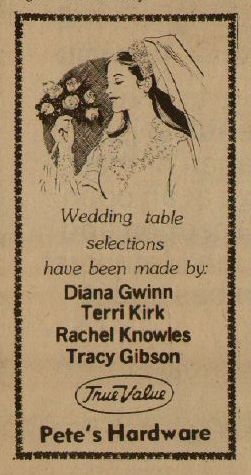 It looks like this part of 1982 had a lot of weddings planned:
Diana Gwinn, Terri Kirk, Rachel Knowles, and Tracy Gibson all had tables at Pete's.
Wandering Pomeroy's Main Street
This Web site has been financed by Castlemoyle Books and Gifts for the Pomeroy Historic Preservation Committee.
The Committee gratefully acknowledges donations of time, photographs, scans, and other
assistance from the Garfield County Museum and individual citizens of Pomeroy and Garfield County.

The Pomeroy Historic Preservation Committee
66 South 7th Street
Pomeroy WA 99347
Copyright © 2002-2021 John R. Gordon