Historic District Downtown Building Inventory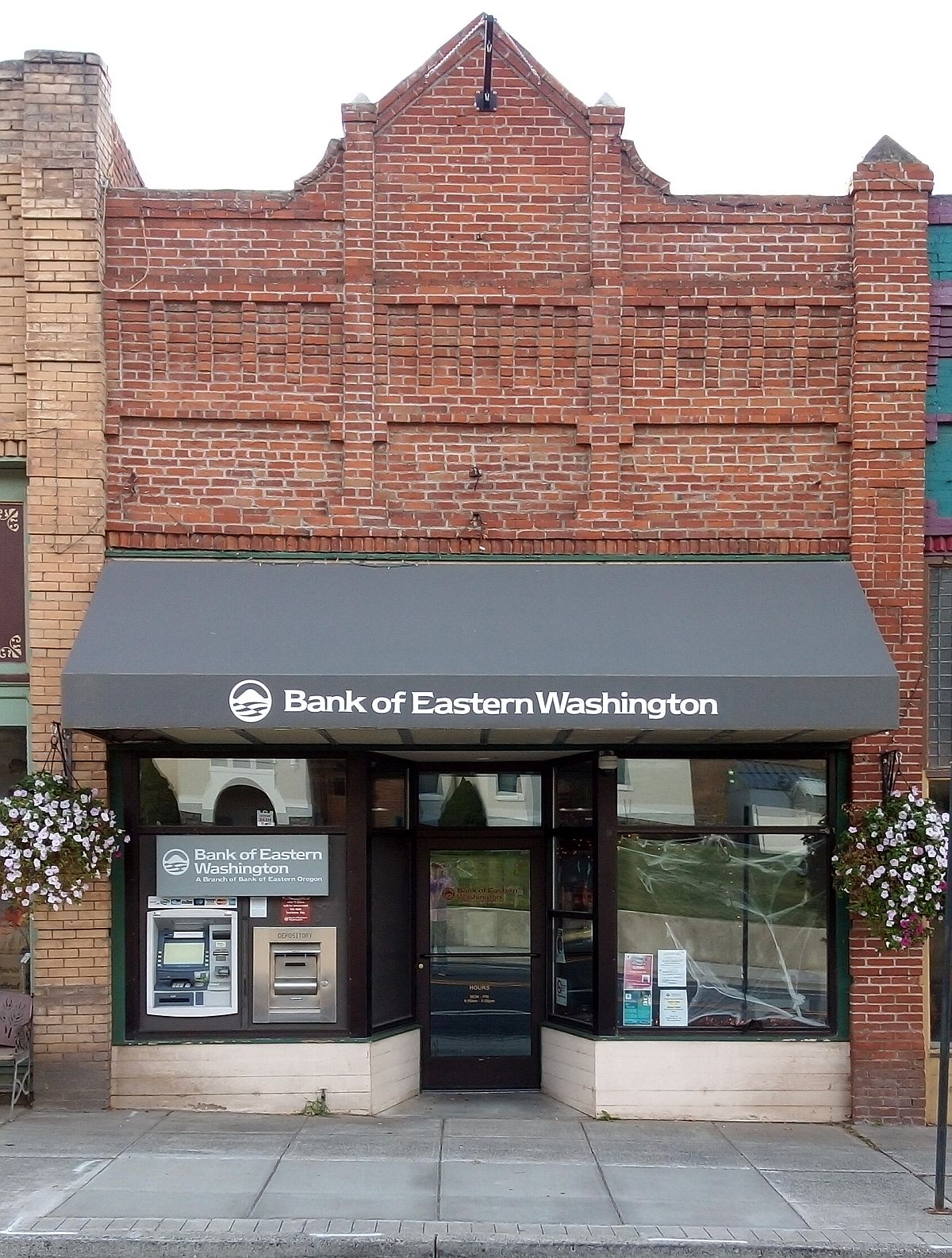 C. W. Black Bldg (Site ID 38)
Current (2021) address: 782 Main Street
1953 address: 881 Main street, Phone 15
Classification: Historic Contributing
Constructed in the fall of 1900 after the Pomeroy fire, the building was erected to house the professional offices of Drs. C.G. and George W. Black, and the East End Drug store operated by M.A. Black. Completed in December 1900, the front of the building housed the East End Drug, and the back of the structure was used as a doctors' office, reception area, and operating room. George W. Black came to Garfield County in 1882 and died in 1910. The Black pharmacy was sold to Crump and Dill by 1914 and became known as the Pomeroy Pharmacy. By 1925, Crump was the sole owner of the business. Around 1963, the Pomeroy Pharmacy moved to their present location at 752 Main Street. Subsequent uses of the building include a barbershop, a fabric shop, and several savings and loans then a bank.
Lewis and Clark Savings and Loan opened in this site in 1976. Sterling Savings and Loan merged with Lewis and Clark in 1983. At the time of the historic nomination, Sterling Savings occupied the building. Following acquisition of Sterling, Umpqua Bank occupied the building, but sold the branch to the Bank of Eastern Oregon, which as of 2020 had a Bank of Eastern Washington branch in this location.
The one-story unpainted brick building has a raised peaked parapet flanked by small brick pilasters with pyramidal caps. The building has a central recessed entrance. Identical in design to the Hazelton Building to the west, the buildings share a common wall divided by a raised rusticated brick pilaster with recessed panels.
Description and much of the Cultural Data based on
research by Donovan & Associates
Pomeroy Pharmacy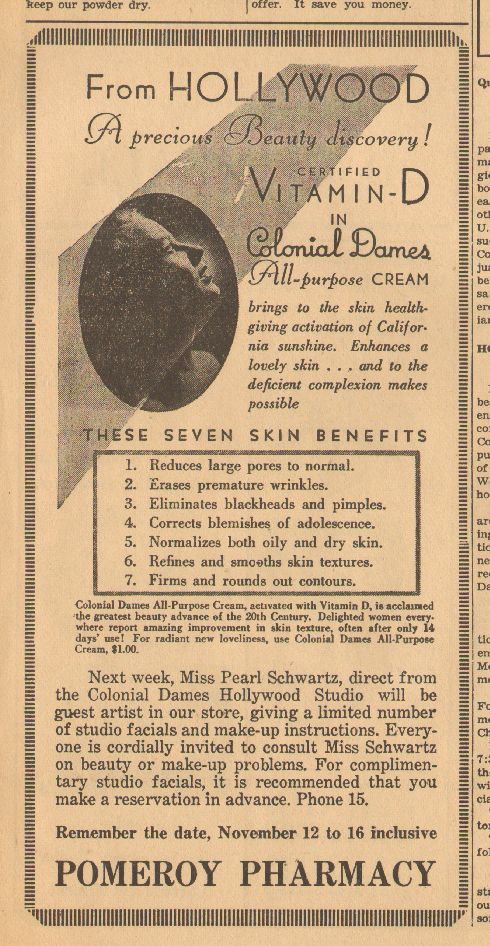 HOLLYWOOD BEAUTY COUNSELOR TO VISIT POMEROY
Miss Pearl Schwartz talented beauty advisor from Hollywood, is enroute to Pomeroy. Miss Schwartz's connection as make-up artist with the Colonial Dames Hollywood Studio, puts her in intimate touch with many of the pet beauty foibles of the stars. We hope she will reveal the secret of how they achieve their glamour.
Considerable interest has been aroused in Miss Schwartz's forthcoming visit, since she is also in a position to divulge the inside story of a new scientific beauty development recently perfected in the Colonial Dames Laboratories.
[2021 editor: as of this year, Colonial Dames is still in operation and selling beauty products.]
--East Washingtonian, November 7, 1935
The Fabric Shoppe
Lewis & Clark Savings & Loan
Interesting news in the November 20, 1975, EW:
Saving - Loan May Locate Office Here
Lewis & Clark Savings & Loan Association of Clarkston is proposing to establish a branch office in Pomeroy and other savings & loans are also considering offices here.
The state savings and loans supervisor last week announced Lewis & Clark has applications for an office in Pomeroy. An address listed, that being in the same area as the Pomeroy Grain Growers office, but Pearl Gwinn, L & C director from Garfield County said that some four sites are under consideration. These were not named.
Gwinn said some $1,000,000 of Garfield County money is invested in Lewis & Clark Savings and Loan and that there are 20 stockholders from Pomeroy.
He says the matter is still under consideration, and that final plans have not been made.
Besides Lewis & Clark, First Federal Savings & Loan Association of Walla Walla and Equitable Savings and Loan of Spokane are purportedly also looking into the Pomeroy market.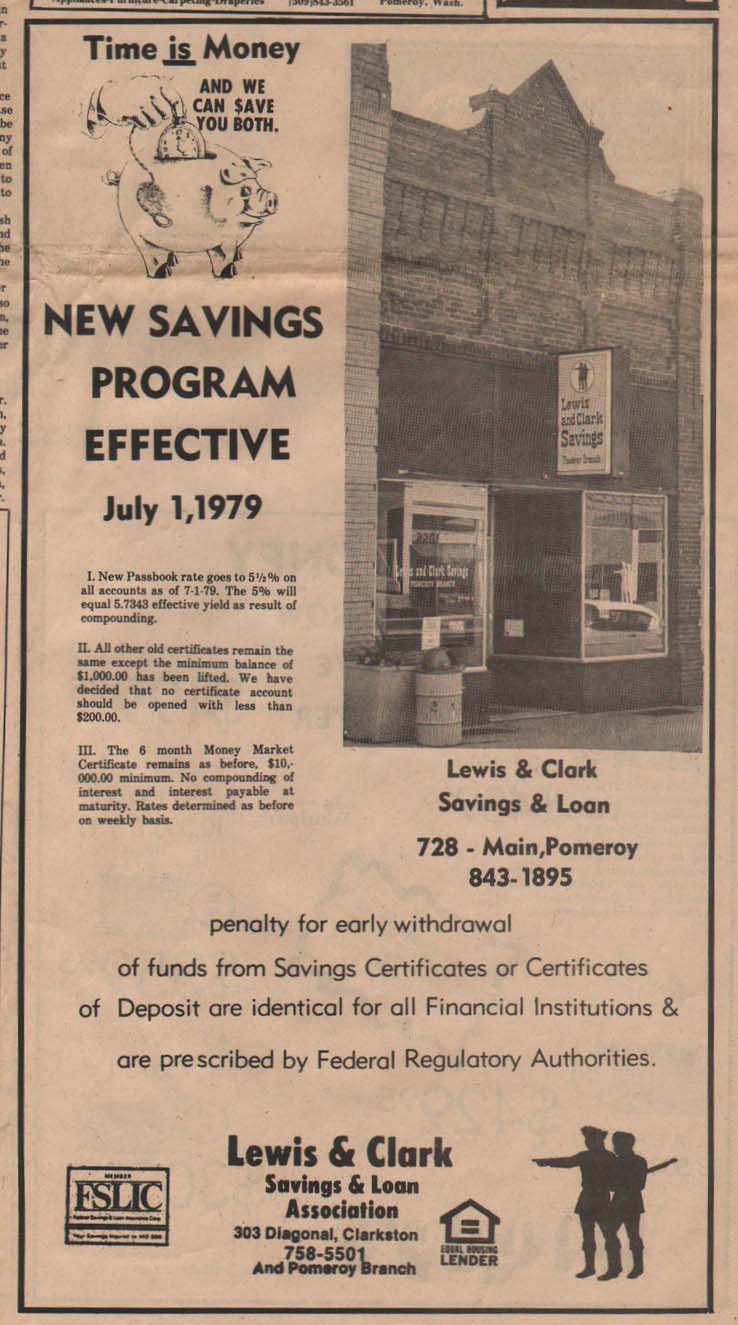 From the summer of 1979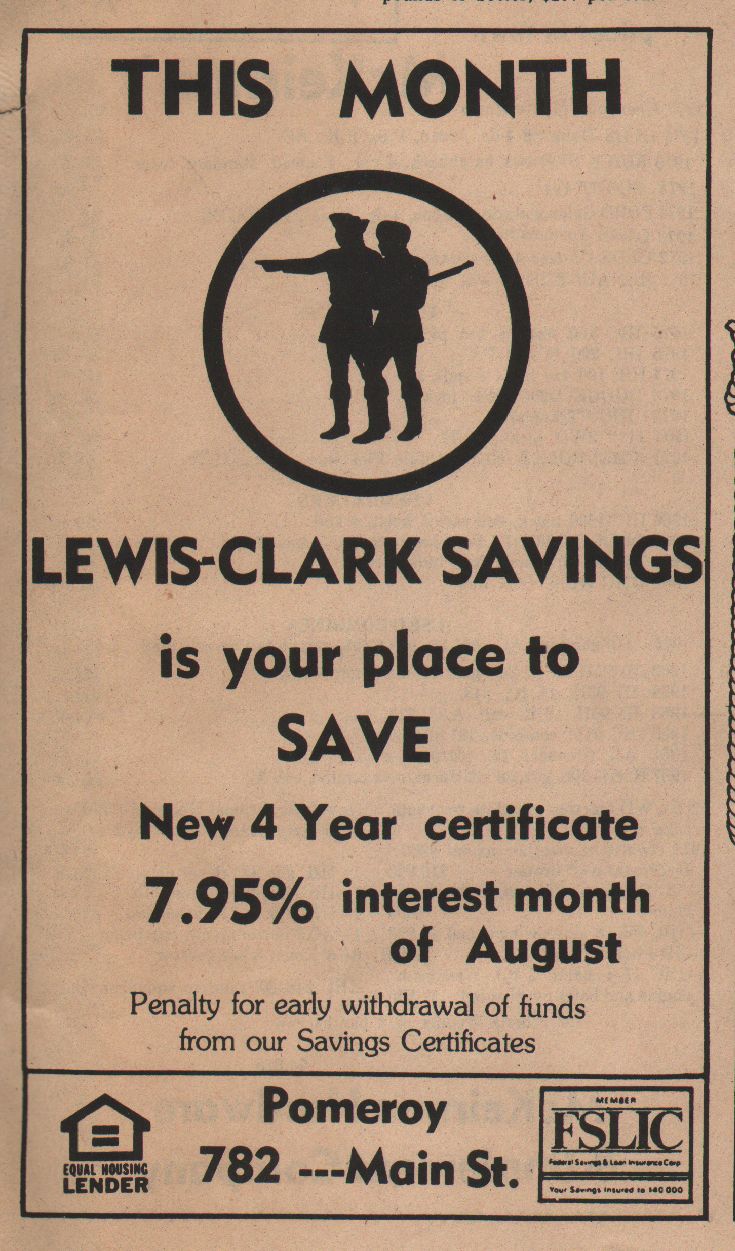 An early advertisement from the summer of 1979.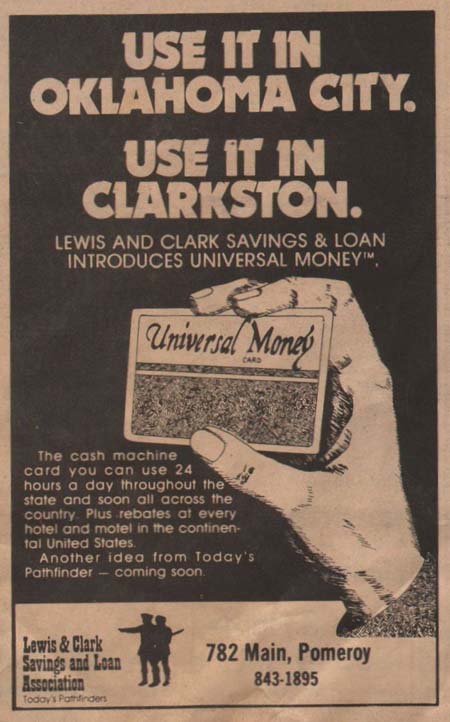 Now, here's an interesting idea from early 1983. I wonder if it'll take off?
Well, it was nice while it lasted.... From the pages of the East Washingtonian, July 14, 1983
Lewis & Clark merger with Sterling takes place
Harold B. Gilkey, Chairman of the Board of Sterling Savings Association, announced last week that Sterling's acquisition through merger of Lewis & Clark Savings and Loan Association of Clarkston, has been accomplished.
The last hurdle was cleared with federal approval of the merger received June 27. This paves the way for combined operations under the Sterling name in Spokane, Clarkston, Pomeroy and Colfax. A Sterling branch will be opened soon in Walla Walla.
Gilkey said that while the statistics are impressive for Sterling, a new savings institution that opened its doors April 4 of this year--assets having increased 20 times and the number of depositors up 160-fold, and total deposits up 120 times--"what really matters is how we implement plans to convert this dramatic growth into meaningful service to the people of this region".
Gilkey noted that his management team, which now includes the Lewis & Clark managers, has from the beginning of negotiations in February viewed the merger in terms of what it will mean to both customers and shareholders of the combined institution. "Lewis & Clark has enjoyed substantial growth since its inception in 1967, largely due to the commitment of management and staff to serving their communities." Gilkey stressed that this philosophy is a perfect match with Sterling's and will contribute to the continuing success of the combined company.
"We believe the merger provides the financial strength, geographical convenience, and diversified management skills that our customers, both individuals and businesses, will find profitable," Gilkey said.
The five Sterling locations in eastern Washington create a geographic pattern shared by many regional businesses, said Gilkey. "For example, a retailer with establishments in two or more communities we serve will find it desirable to bank with Sterling. It is clear to me,"Gilkey said, "that, had this merger not occurred, Sterling would have sought to establish operations in precisely these four other cities. We all have a great deal in common, from sharing the same state government to sharing the same heritage, cultural and economic, of this inland region."
Kip McQuary, Chairman of the Board of Lewis & Clark, and Dr. Robert Meyers and Robert Larrabee, directors of Lewis & Clark, have been asked to serve as directors of Sterling Savings Association. Chuck McMains, President of Lewis & Clark, will manage the company's activities in Lewiston and Clarkston.
Gilkey emphasized that the merger strengthens and enhances the type of service Lewis & Clark Savings and Loan Association has provided over the years. He stressed that, unlike many mergers between financial institutions these days, the combining of Lewis & Clark and Sterling is the combining of two viable companies that recognized mutual benefits in being able to better serve the Inland Empire under the Sterling banner, particularly beneficial in taking advantage of the continuing deregulation of the financial industry.
Sterling Savings and Loan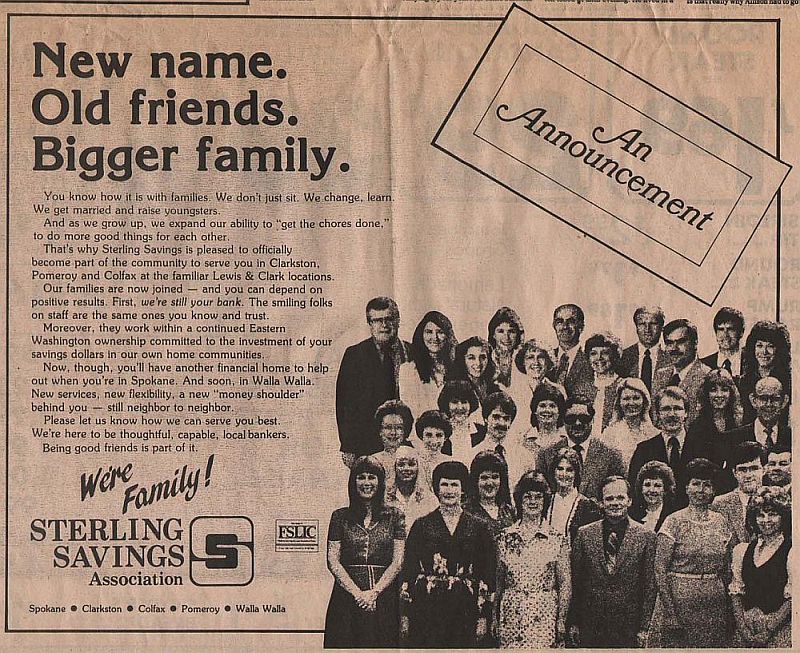 There's a new bank in town. (Half-page advertisement from September, 1983.)
From the front page of the EW, December 12, 1999, we saw
Muriel new Sterling vp
Muriel Bott, manager of Sterling Savings Bank's Pomeroy branch, has been promoted to vice president of the Spokane-based organization.
Muriel was a customer service representative when Lewis & Clark Savings merged with Sterling in 1983. She was named Pomeroy branch manager in 1986 and promoted to assistant vice president in 1993.
She was awarded the bank's Community Service Award for her contributions to civic, cultural and charitable activities in the community, and she was recipient in 1996 of the Leadership Award for high level of performance, leadership and community service.
Muriel is active in the Chamber of Commerce, Service Club, county tourism committee, Community Development Action Team, the board of Garfield County Health Foundation, and Garfield County Historical Association.
Umpqua Bank
Bank of Eastern Oregon/Washington
Click Here

This is a test. This is only a test. Do not attempt to ....