How the Schneckloth/Waldher Service Station looks in 2021
Historic District Downtown Building Inventory
Schneckloth/Waldher Service Station (Site ID 24)
According to the 1922 Sanborn Fire Insurance Map, this site was vacant. By 1930, Jim Schneckloth and Raymond Waldher owned a service station on the site. During the Korean War, a lookout station was constructed behind this building on the hillside. The station was later known as the Charlie Bowne Service Station, Bankes Service Station, Rich's Union 76 Station (at least 1969, 1970), and later an Exxon station. According to an article in the East Washingtonian from June, 1983, the station was known as Rich's Exxon.
During the early part of the 2000's this was the office and storage for W & W [Warren and Warren] Construction. It later served as the offices for the City/County Fire Department. At the time of this writing (2021), the building is vacant and is a storage facility for the Fire Department.
This L-shaped wood frame building has an intersecting gable roof covered with asphalt composition shingles, shallow overhanging eaves, multi-pane vinyl and wood-sash windows, and vinyl siding on east half of the former station. The garage bay has stucco siding, multi-pane wood windows, and a metal roil-up garage door. The building was modified extensively for its use as an office and residence. The eastern half of the building is the original part of the station.
Cultural Data based on
research by Donovan & Associates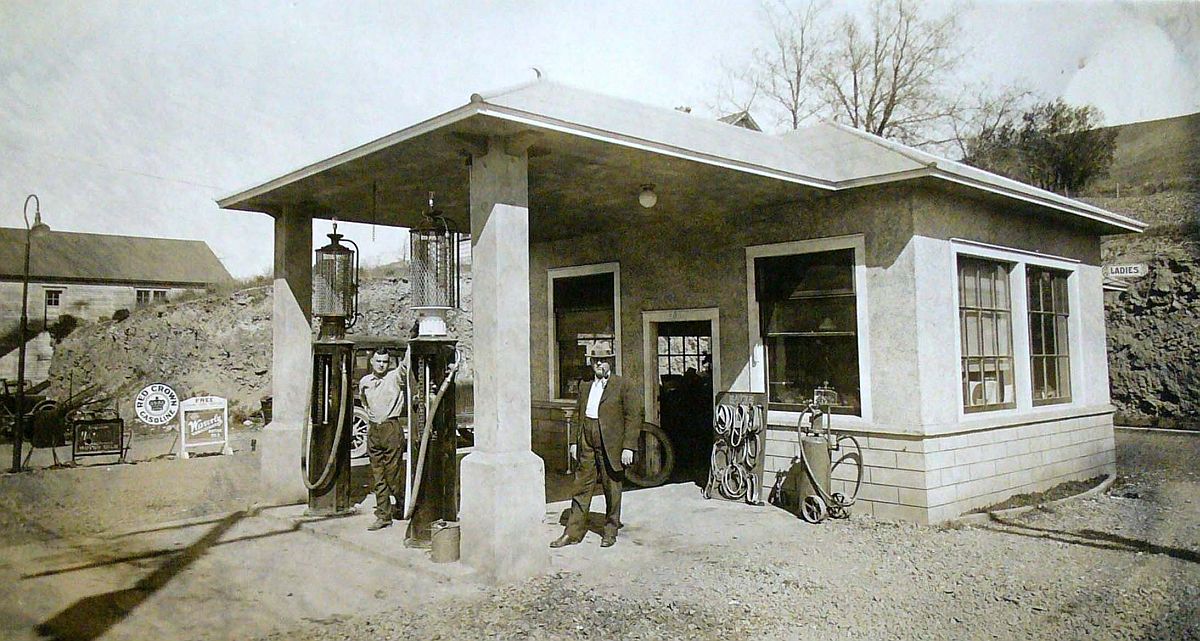 Raymond Waldher (left) and Jim Schneckloth (right) at their Schneckloth-Waldher Station early on. Notice the "Red Crown Gasoline" sign. Red Crown was an early Standard Oil product. That's the corner of the Electric Service Station in the background.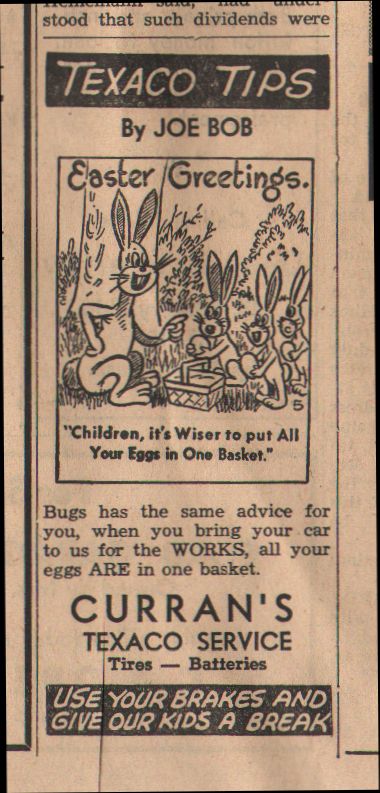 March, 1956. Joe Bob offered Texaco Tips for Curran's Texaco Service in Pomeroy.

As of October, 1956, you met the Greyhound at Curran's Texaco in Pomeroy, Washington.
More Greyhound news from February, 1957: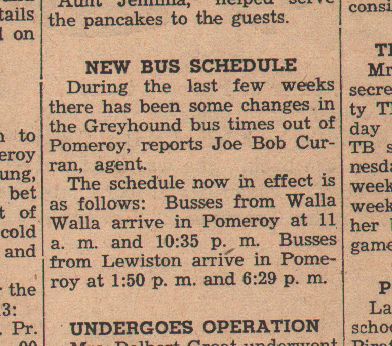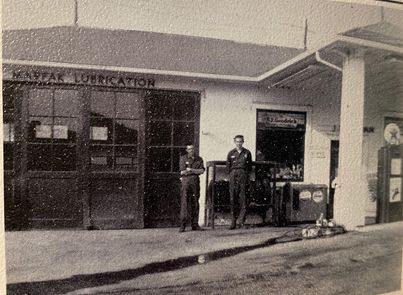 From the Pirate's 1958 yearbook, here's the station identified as Curran's Texaco.
Wandering Pomeroy's Main Street
This Web site has been financed by Castlemoyle Books and Gifts for the Pomeroy Historic Preservation Committee.
The Committee gratefully acknowledges donations of time, photographs, scans, and other
assistance from the Garfield County Museum and individual citizens of Pomeroy and Garfield County.

The Pomeroy Historic Preservation Committee
66 South 7th Street
Pomeroy WA 99347
Copyright © 2002-2022 John R. Gordon