Historic District Downtown Building Inventory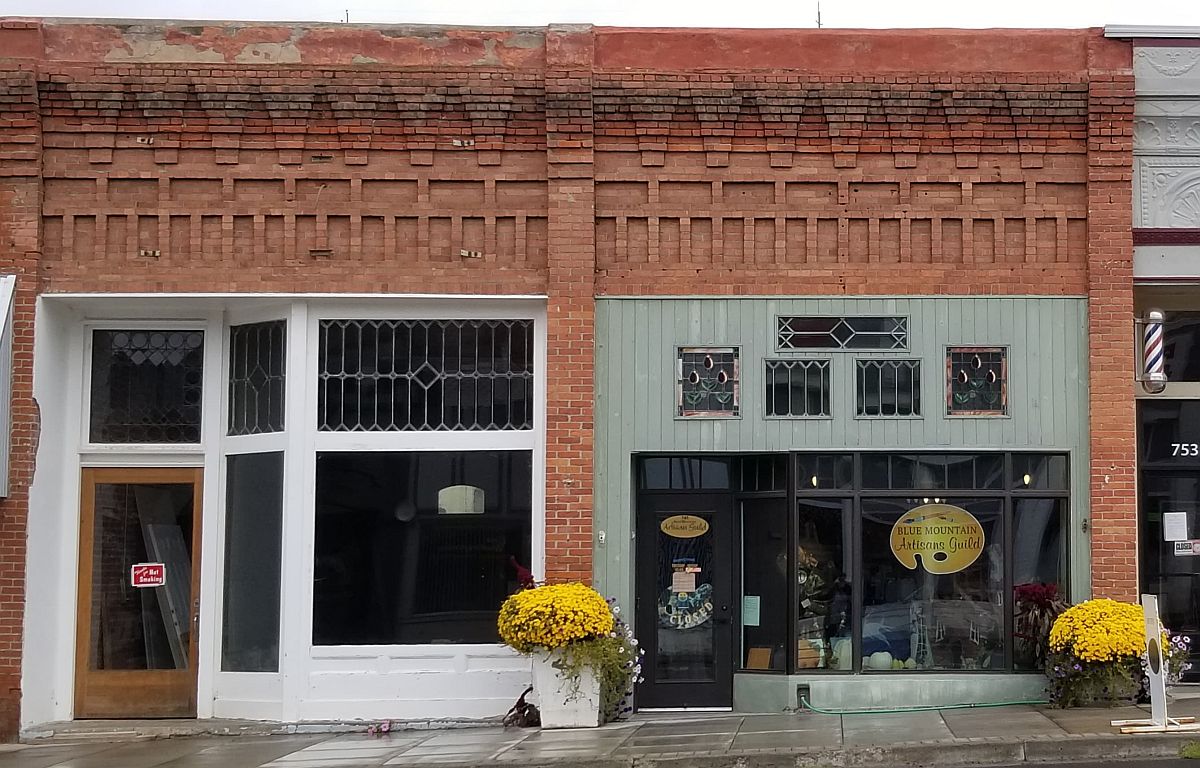 The Christopherson Jewelry Building in early 2021
Christopherson Jewelry and Post Office (Site ID 11)
Classification: Historic Contributing
741 Main Street and 745 Main Street

The building was constructed circa 1901 after the 1900 fire. By 1922, the 34' x 60' structure housed Christopherson's Jewelry Store in the west half and the U.S. Post Office in the east half. By 1930, the post office had moved west to the Stevenson Building and was replaced by a commercial store.

About 1947, Helen Browne moved her "Helen's Hat and Dress Shop" here from the Palace Store Bldg. Helen later changed the name of her business to "Helen's Apparel." In January, 1960, Helen Browne retired, selling her business to Mona Wolf and Ruth Ann DeShirley. They changed the business name to "Style Station" and later to "Fashionette." This business closed in 1968. [Ray Cardwell: Cardwell's, 2010]

At the time of the Nomination, the two storefronts were occupied by the eastern portion of Victorian Rose.

During the last of the 2010's, the Blue Mountain Artists' Guild opened a gallery and classroom in the eastern storefront (745 Main Street). The Guild purchased the western storefront (741 Main) in 2021 and expanded their classroom and educational section into it.

This one-story brick building has a raised parapet decorated with a brick drip coursing. The top of the parapet has been modified by the removal of some of the brick coursing and the application of stucco over the part of the parapet. The spandrels are decorated with a series of small recessed panels and the two bays are separated by raised brick pilasters. The storefronts have been altered by enclosing the transoms and bulkheads with Roman bricks, and altering the doors and windows to aluminum sash.

Cultural Data based on
research by Donovan & Associates
L. T. Christopherson
From the East Washingtonian in July, 1971
Christopherson Closing Store After 60 Years
L. T. "Chris" Christopherson, who has operated his optometry-jewelry store in Pomeroy for over 60 years has announced his retirement from the store.
Bill Anderson, sales counselor from Eugene, Ore., will coordinate the closing of the store with a sale of all remaining merchandise and fixtures including many antique items.
Christopherson said he is still capable of handling the work, but wants to devote time to gardening and planting boxwood trees.
Helen's Apparel
Style Station
Fashionette
Wandering Pomeroy's Main Street
This Web site has been financed by Castlemoyle Books and Gifts for the Pomeroy Historic Preservation Committee.
The Committee gratefully acknowledges donations of time, photographs, scans, and other
assistance from the Garfield County Museum and individual citizens of Pomeroy and Garfield County.

The Pomeroy Historic Preservation Committee
66 South 7th Street
Pomeroy WA 99347
Copyright © 2002-2021 John R. Gordon