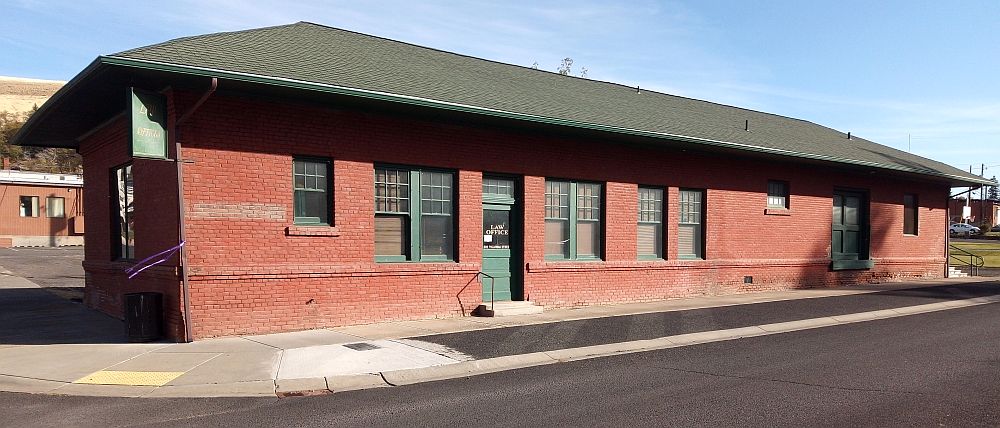 Historic District Downtown Building Inventory
Oregon Railway & Navigation Co. Depot (Site IDs 60 and 61)
Classification: Historic Contributing
Eighth and Columbia Streets

The original depot was located about a mile east of the town center. Passengers debarked from the train and had to be transported by wagon a mile to downtown Pomeroy. In the early 1900s, town people started petitioning the O.R.&N. Co. for the construction of a new depot in downtown Pomeroy. In 1911, construction began on the new brick depot that was adjacent to the track extending down the center of Columbia Street. The depot was sold in the 1980s and now houses a dentist and law office. Much of the original interior details are intact.

The one-story brick building has a hip roof covered with composition asphalt shingles, wide overhanging eaves, slightly recessed nine-over-one double-hung wood sash windows, a brick belt course under the windows and a concrete foundation. Alterations include the addition of a wood deck, and installation of fixed-pane windows and newer doors on the north elevation, and the addition of a concrete ramp on the east side. (This building is sited on two separate tax lots and owned by two parties.)

Note: Because the Depot is on two separate lots, it is listed on the National Historic District Nomination as Sites #60 and #61.

Description and much of the Cultural Data based on
research by Donovan & Associates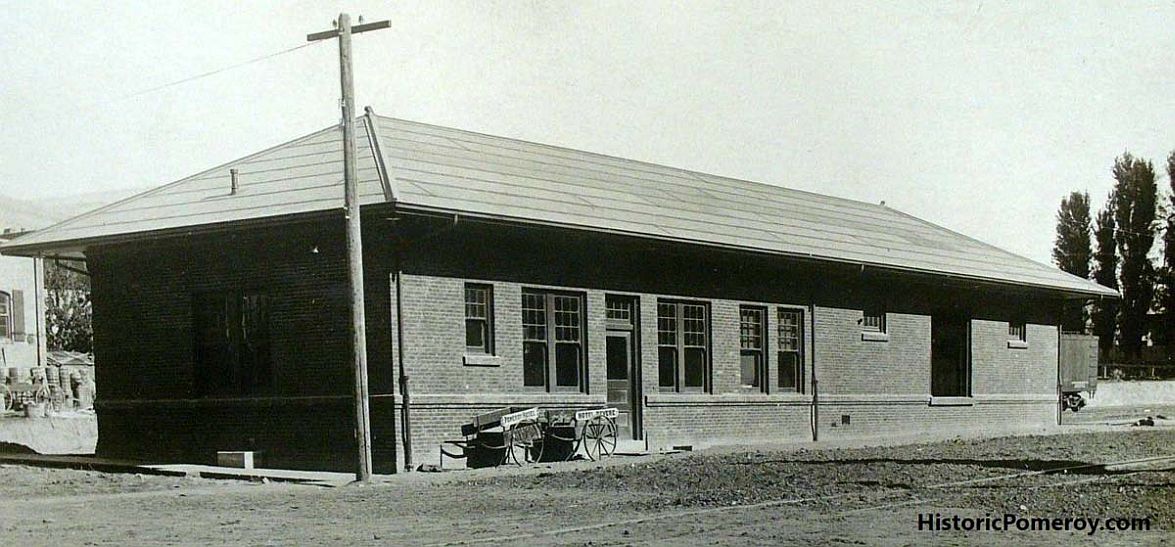 Pomeroy's Depot before the 'Pomeroy' sign went on the roof. Note the luggage carts labeled for the Pomeroy Hotel and the Hotel Revere.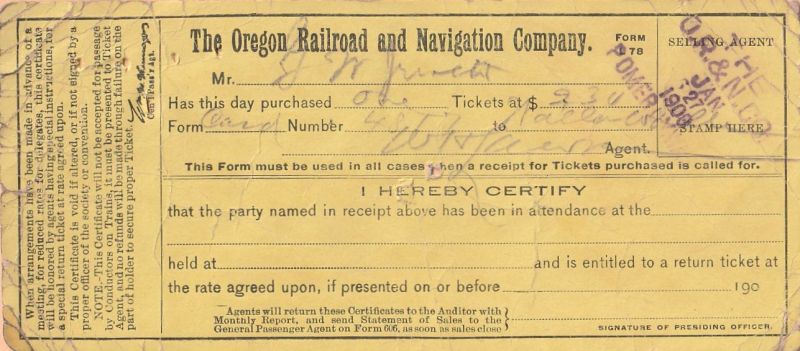 (Courtesy of the Garfield County Museum)
It's the Oregon Railroad and navigation Company, January 27, 1908. It looks like the ticket was sold to G. W. Jewett, an attorney in Pomeroy. From the Mike Buckley estate.
From the "Brief Items of Local News" section in a mid-November, 1913, issue of the East Washingtonian
We are afraid we are to lose Conductor Pefferie from the Pomeroy line. He has a chance to make from $40 to $50 more on the month from running out of Walla Walla.
Wandering Pomeroy's Main Street
This Web site has been financed by Castlemoyle Books and Gifts for the Pomeroy Historic Preservation Committee.
The Committee gratefully acknowledges donations of time, photographs, scans, and other
assistance from the Garfield County Museum and individual citizens of Pomeroy and Garfield County.

The Pomeroy Historic Preservation Committee
66 South 7th Street
Pomeroy WA 99347
Copyright © 2002-2021 John R. Gordon