Pomeroy Washington Downtown National Historic District
Historic District Downtown Building Inventory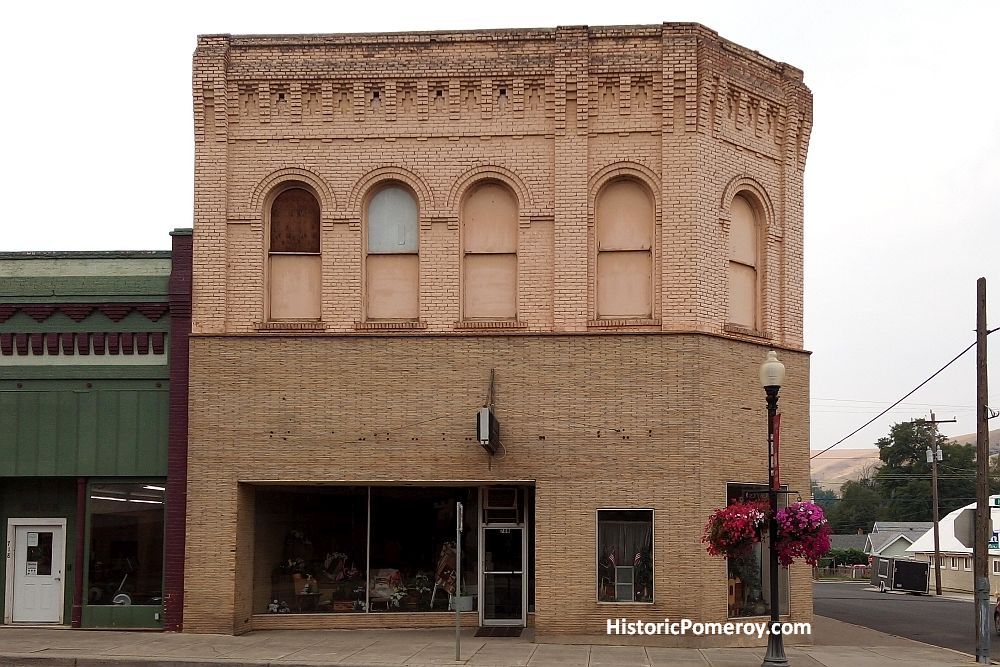 Pomeroy Savings Bank/Elsensohn/Cardwell Bldg (Site ID 45)
Current (2021) address: 708 Main Street
1953 address: 809 Main street, Phone 30
Classification: Historic Contributing
The Pomeroy Savings Bank Building was started in May 1891 and was one of the few two-story brick buildings in downtown Pomeroy. Completed in December 1891, the bank occupied the northwest comer of the new building, and a general merchandising firm moved into the eastern half. The upper floor was used as a lodge hall. The bank only resided in the building for a few years before moving into the First National Bank Building (#4) in 1898 after that bank closed their doors. The Pomeroy State Bank remained in the building until it constructed another bank building across the street on the corner of Seventh and Main streets (#8).
After the bank moved, Fred J. Elsensohn expanded his general store and occupied the entire first floor. F.J. Elsensohn began his merchandising career with R. L. Rush & Co. and soon bought Rush's interest in the business along with J.B. Brady. Elsensohn then purchased Brady's interest and formed the Fred J. Elsensohn Company. He ran the store until 1909 when he sold the business to Jasper N. Cardwell. After Cardwell's first business was destroyed by the 1900 fire, he relocated to the Mulkey Block (#41) and then to the Kuykendall Block (#40). Cardwell purchased the stock of Elsensohn and began his successful store with his three sons, Frank, Hugh, and Charles who helped in the business that was known as Cardwell & Sons. Their grocery store was located in the back of the building. During April, 1951, a fire destroyed some of the interior of the store. The Norlin family, owners of the building at that time, rebuilt after the fire, changing the first story to a new 'modern storefront' (completed 1952). The department store went through a number of name changes as it was sold to different people during the 1960s, 70's, and 1980's. The location was the "DD Department Store" during the late 1970's and early 1980s. [add adv.] Following the closure of Eydie Grimm's thrift store in 2002, the building was temporarily used as a gym/fitness center but has been used for private storage for most of the past decade.
Based on research by
Donovan & Associates.

(Courtesy of the Garfield County Museum)
The top of a Elsensohn Co. statement for the estate of Mike Buckley in 1907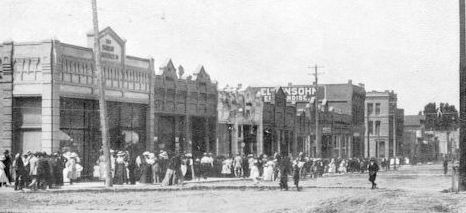 (Photo courtesy of Quest Keatts)
Everyone knows that building on the corner as Cardwell's, but prior to 1909 it was Elsensohn's. And their sign but a bit smaller.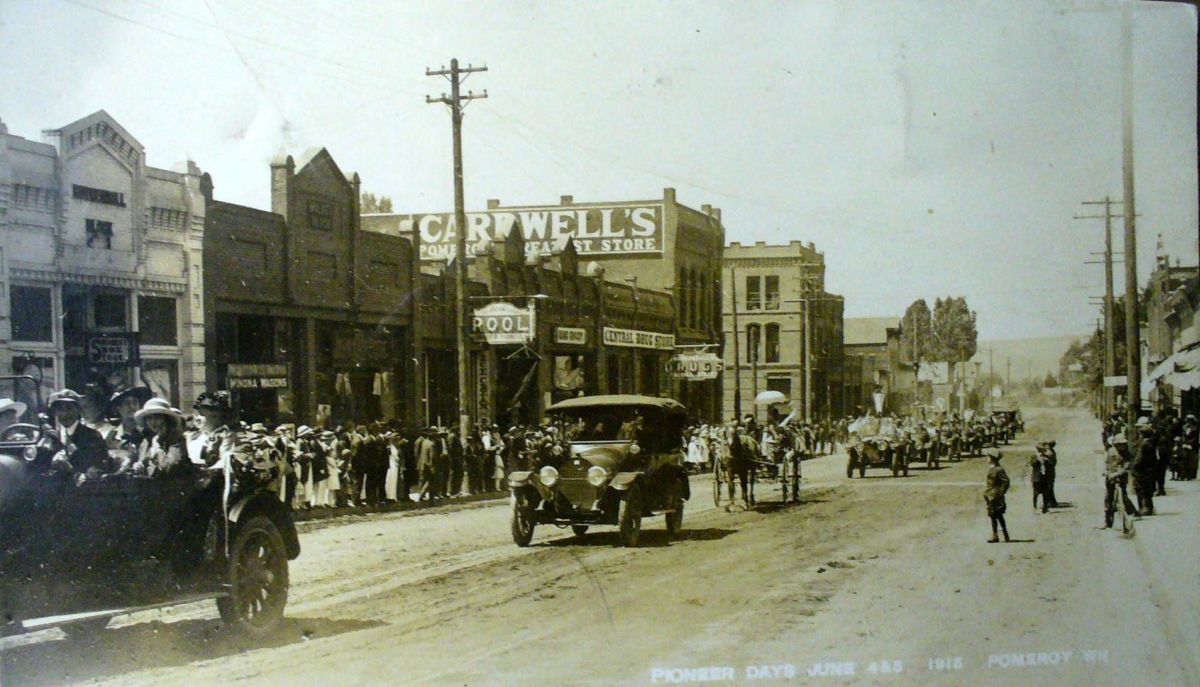 Pioneer Day Parade, June 1915

Hot news seen on the front page of the East washingtonian, September 27, 1913.
CARDWELL STORE ENLARGED, REMODELED
Having leased the building now occupied by their general merchandise store, J. N. Cardwell & Sons have arranged with Mr. Elsensohn, tbe owner of tha building, to build a one-story addition to the back part, and a modern store in every respect will be fitted up. Tbe addition will be 20 by 40 feet, with basement, and will contain a rest room with wash stands, lavaratories, and sanitary drinking fountains for use by tbe women and children, and like appointments for men.
A window will be placed in tbe present building at tbe bottom of the steps leading to tbe second floor.
Changes will be made in the shelving and the office remodeled. An alcove will be placed in tbe ceiling of the first floor, thus permitting of the exhibiting of merchandise on the second floor, so that it will be in view of the floor below. Other changes will be made, including a concrete sidewalk along the entire west side of the building. Mr. Frank Cardwell, manager for the company, states that for years they have realized that Garfield county is the best spot on earth, and they are going to act accordingly, and do a little building up for the home town.
From "Down Memory Lane" of July 29, 1971, looking back at Cardwell's in 1921:
The J. N. Cardwell & Sons store is being improved by the addition of fixtures on the second floor, which hereafter will be devoted to ladies goods. Dressing rooms and fitting rooms, cabins for storage and display of ready-to-wear goods are among the aditions. The men's suit department is being moved to the first floor, and is also being equipped with dressing rooms and display cabinets.
News of 1931 from the East Washingtonian "Down Memory Lane" of August 16, 1956.
Mrs. H. H. Cardwell is in Seattle buying merchandise for the fall season. She drove through via Snoqualmie pass, accompanied by her young son, Billie.
The community heard some sad news with a front page article in the February 21, 1957, issue of the EW:
Hundreds Attend Cardwell Rites
Hundreds of town and county residents turned out Friday afternoon, February 15, [1957,] along with many from out-of-town, to pay last tribute to their friend, Hugh Cardwell, pioneer merchant, who passed away February 11 while on a vacation in the Hawaiian islands.
Services were held from the Richardson Funeral Home with the Rev. Robert Lancaster of the Episcopal church officiating. The Rev. Robert Condon of the Nazarene church sang "Lead Kindly Light." Delia Chard was at the organ.
Honorary pallbearers were Fred Matthies, Pearl Gwinn, Alex McCabe, John Elsensohn, George Medved, Bill Leonard, Cecil Hutchens, Roy B. Tapert, L. T. Christopherson, George Burlingame and Harry Chard.
Active pallbearers were Floyd Swanson, John Malone, Wayne Beale, Orville Flerchinger, Murphy Blankinship and Clarence Koller. Attending from out of town were: Mrs. Roy Williams, Miss Beulah Cardwell, Walla Walla; Mrs. Roger Hastert, Stanwood; Mrs. Hal Robertson, Mr. and Mrs. R. B. Tapert, Seattle; Mrs. Lillie Williams, * Lewiston, Idaho; Dr. and Mrs. W. L. Meyers Jr., Dr. and Mrs. Robert Meyers, Mrs. Ed Buchet, Clark-ston; Mr. and Mrs. Eliot Richardson, Mrs. Si Matthies, Mrs. Stanley Miiller, Mr. and Mrs. Joe Keatts, Mr. and Mrs. Wayne Keatts, Mr. and Mrs. Harold Keatts, Lewiston, Idaho;
Mr. and Mrs. Lorraine Keatts, Brewster; Mrs. Laura Harris, Connell; Mrs. W. A. Story, Walla Walla; Leon Right-mire, Yakima; Mr. and Mrs. Joe McGrath, Spokane; Mr. and Mrs. Alfred Hoffman, Johnson; Marvin Carter, Spokane, Wash.; John Hoffman, Johnson; Mr. and Mrs. Joe Henley, Clarkston; Mr. and Mrs. Robert Grimm, Spokane; Mrs. Loula Snodgrass, Clarkston; Arthur Hoffman, Moscow, Idaho.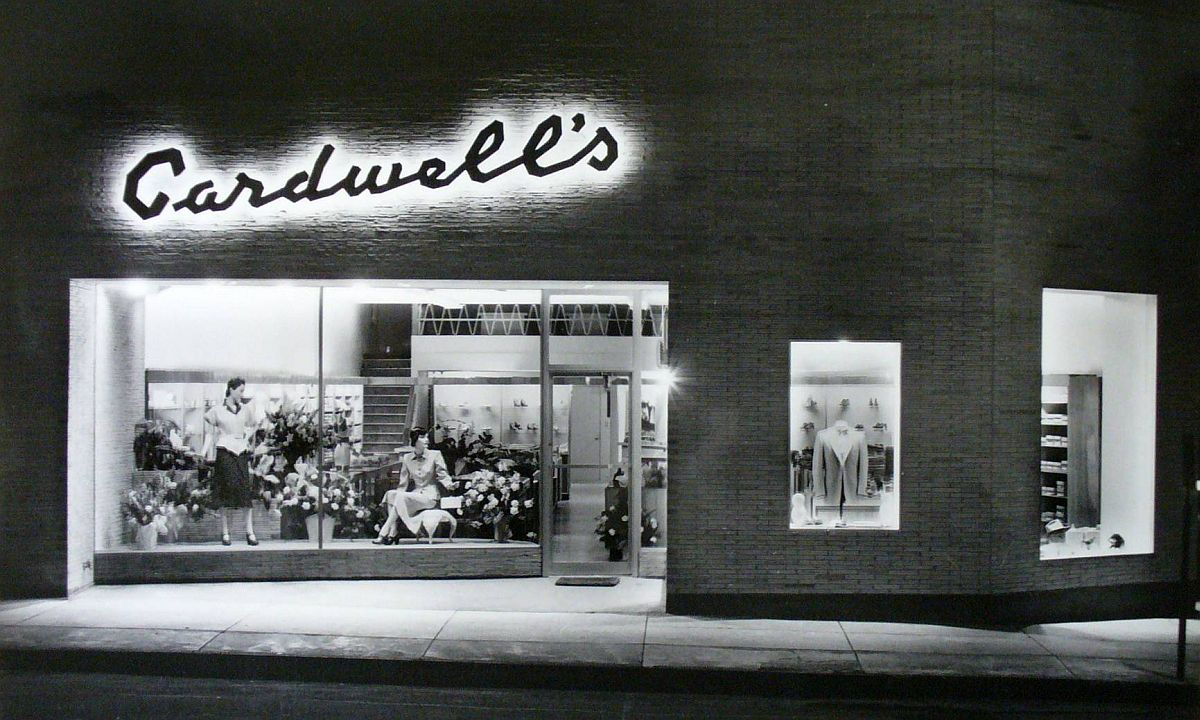 Late 1950's, maybe early 1960's. Notice the cut-off corner and the "up to date" brick work decoration.
More sad news via a page 4 article in the May 2, 1957, issue:
J. L. Elsensohn Dies In Oregon
Joseph Lawrence Elsensohn, a former longtime resident of this county, died April 28, in Eugene, Oregon at the age of 83.
He was born on October 2, 1873 and on September 5, 1900 was married to Iva Mae Irvin in Pomeroy. Both taught school in Garfield county and for over 20 years Elsensohn worked in the store that was owned by Fred Elsensohn and later by the Cardwells.
The Elsensohns moved to Eugene in 1925 where for more than 20 years he was associated with the Eugene Fruit Growers. Mrs. Elsensohn preceded him in death in October, 1949.
He is survived by two children, Dorothy Mae Taylor, Eugene, Oregon, and Harold, San Diego, California; eight grandchildren; eleven great grandchildren and a sister, Mrs. R. E. Wills, in California. He was a brother of Mrs. M. C. Beale who passed away in November, 1955.
Elsensohn was a member of the Christian churches of Pomeroy and Eugene.
Services were held the afternoon of May 1 in St. Mary's Episcopal church, Eugene, with the Rev. Perry H. Smith officiating. Interment was at Rest Haven Memorial park.
Attending the services from Pomeroy were Mrs. John Elsensohn, Mr. and Mrs. John Dye and Mrs. Glen Henderson, who is from Craigmont, Idaho.
The Summer of 1978 saw a new manager at the Double D. From the June 6, 1978, issue of the East Washingtonian.
Lyle Lansing heads Double D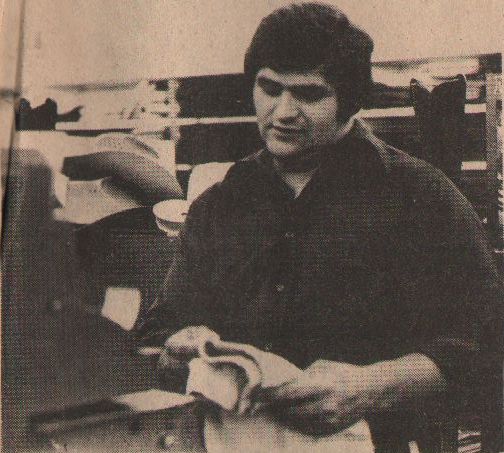 Lyle Lansing is the new manager of the Double D Department Store in Pomeroy.
A resident of Pomeroy for the past four years, Lansing says one of his main goals is to work on merchandising and promotion of the store's clothing lines. He says the store is handling both top grade lines and with budget items in both the men's and women's departments.
The lines of men's items are being expanded and Lansing said he will offer counseling in selection. Lansing worked for Jim Scott for 1 1/2 years, operating the seed mill, before going into public relations and advertising for the Lewiston Tribune, and he is now with Walter Duncan, Inc., as manager of the Double D.
He and his wife Nancy have two children, Michelle (pronounced Michael) Jennel 7, and Keiley, 6. His interests include hunting and fishing and other outdoor activities. Nancy is a homemaker. She has a design and sewing degree from Columbia Basin College in Pasco.
Lansing has a degree in business management from Columbia Basin College. He started his college education at San Diego State.
The water cooler at the store gave Lansing a somewhat unfriendly welcome last Friday night. Lansing went into the store about 9 p.m. to pick up some papers and found the carpet was wet. Apparently (he water line was turned on too high, and the cooler overflowed. He says he worked until about midnight getting water out of the carpet and basement.
"We were very lucky, there was no serious damage." Had the water stayed in the carpet for an extended period, it is likely some of the carpet would have had to be replaced, he said.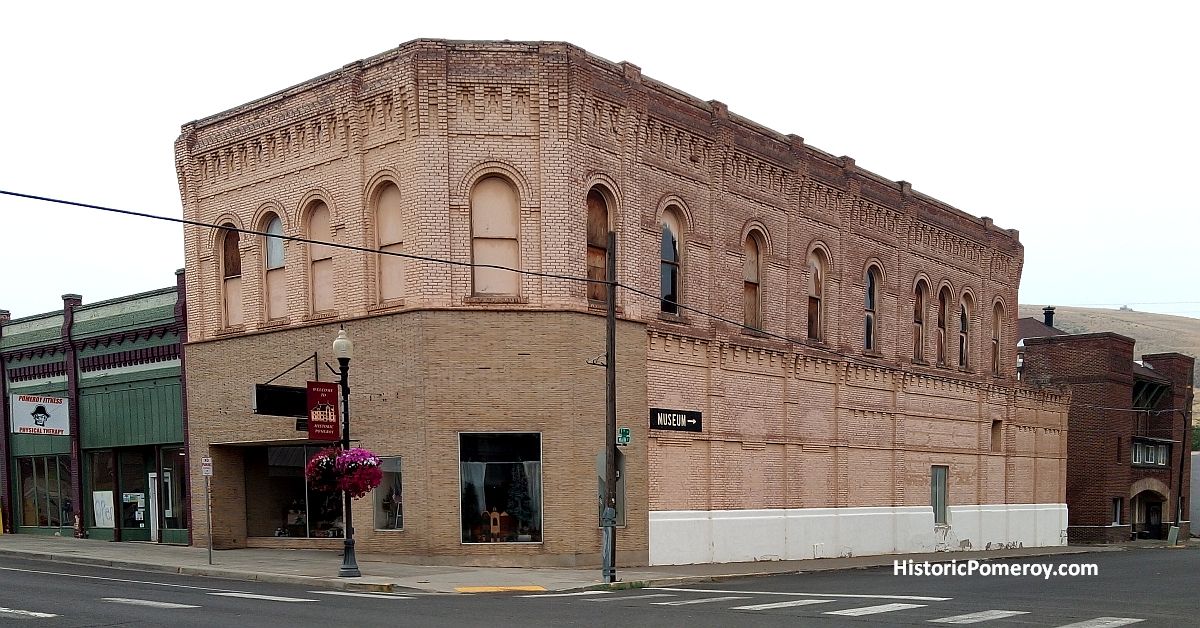 The Pomeroy Savings Bank/Elsensohn/Cardwell Building, August, 2021.