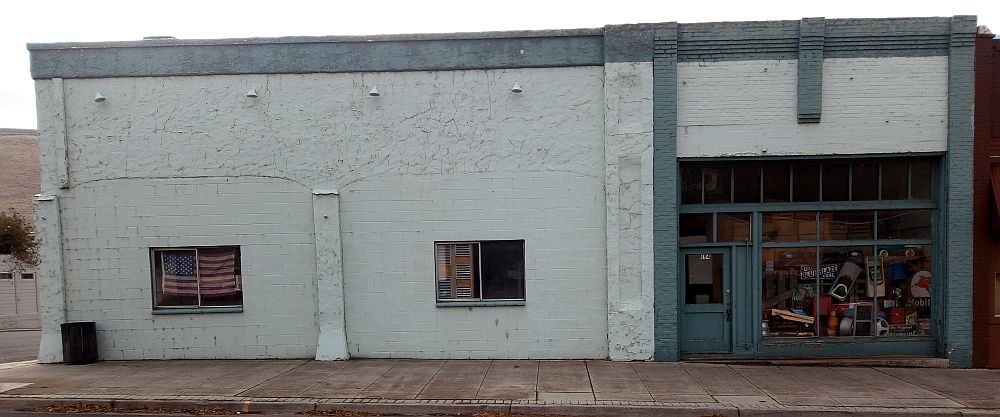 Started as Rauch's, Now in Summer, 2021, it's Hill's
Historic District Downtown Building Inventory
E. M. Rauch Implements and Hardware (Site ID 30)
According to the Sanborn Fire Insurance Maps, by 1896, the Dakota Livery Stable stood on this site. The current structure was most likely built circa 1908 by E.M. Rauch for use as a hardware and implement store. Rauch came to Garfield County in 1881 as a telegrapher, and later became a real estate agent for Mitchell, Staver, & Lewis. By 1930, McGrath's Service Station was in the building. McMonigle Chevrolet occupied the structure in the 1940s and 1950s, and later, Belknap Chevrolet. Currently, Hill's Body Repair uses the building for its shop.
Building Description: The one-story brick building was remodeled in the late 1920s or early 1930s for use as a service station. The comer of the building was opened to accommodate an automobile drive-through. This drive-though was later enclosed with concrete blocks, windows, and a paneled garage door to create more interior space. The original brick and stone foundation can be seen on the east end of the rear elevation. An original storefront bay is on the front (north) side.
Description and Cultural Data based on
research by Donovan & Associates
McMonigle Chevrolet Co.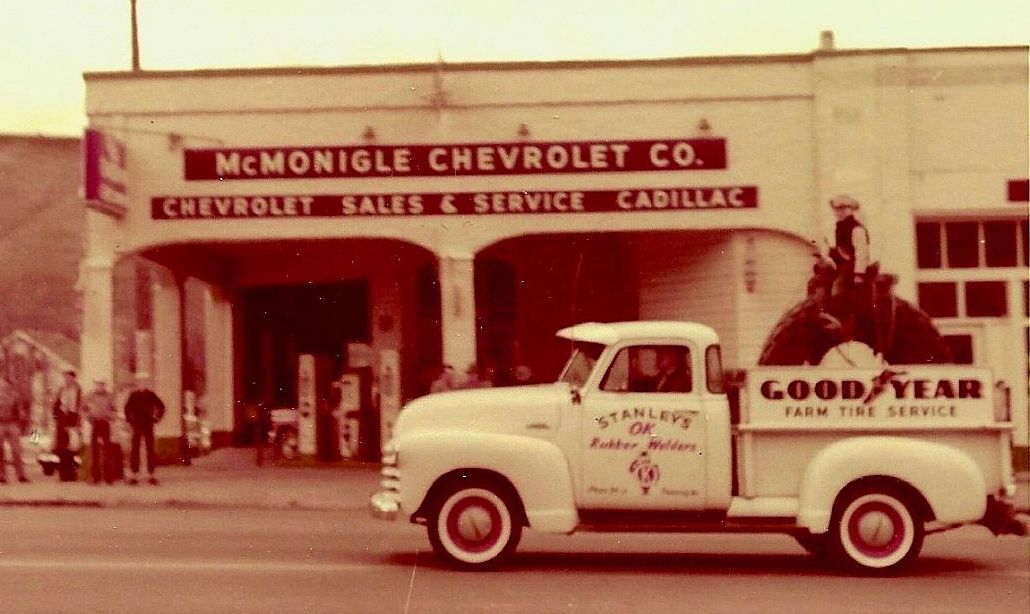 During the 1951 Pioneer Day Parade. Stanley's OK Rubber Welders was almost directly across the street from McMonigle's.
(Photo courtesy of Bill Stanley)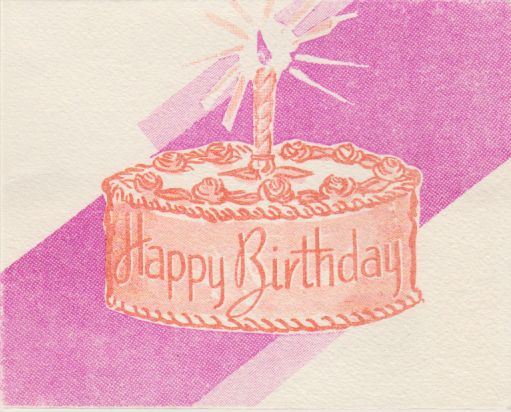 McMonigles sent out Birthday Cards to their customers in the early 1950s offering free lubrication.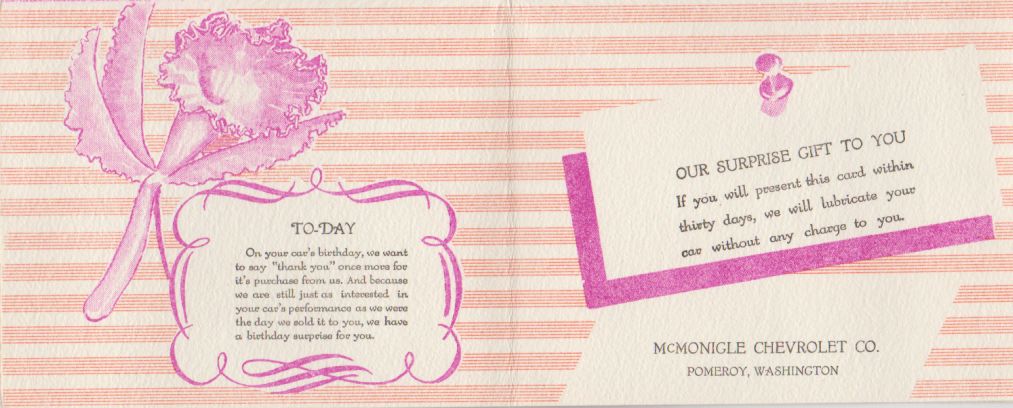 This birthday greeting was sent to Beulah Ball and was pasted into her scrapbook.
From the E-W's front page on 4/4/1957
Used Car Burns On Way to Idaho
Burt Belknap of McMonigle Chevrolet Company was driving one of his used cars to Lewiston, Idaho Friday afternoon when it caught on fire.
The fire in the 1950 model started under the hood and burned the motor and all of the wiring quite badly, Belknap reports. A state highway crew came along and helped put out the fire before it demolished the car. Damage was estimated at $200.
The mishap occurred about seven miles east of Pomeroy.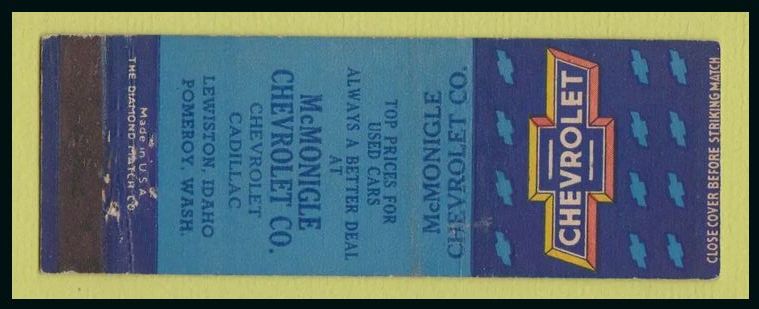 I'm not sure when McMonigles was giving out matches. But someone saved them.
Wandering Pomeroy's Main Street
This Web site has been financed by Castlemoyle Books and Gifts for the Pomeroy Historic Preservation Committee.
The Committee gratefully acknowledges donations of time, photographs, scans, and other
assistance from the Garfield County Museum and individual citizens of Pomeroy and Garfield County.

The Pomeroy Historic Preservation Committee
66 South 7th Street
Pomeroy WA 99347
Copyright © 2002-2021 John R. Gordon