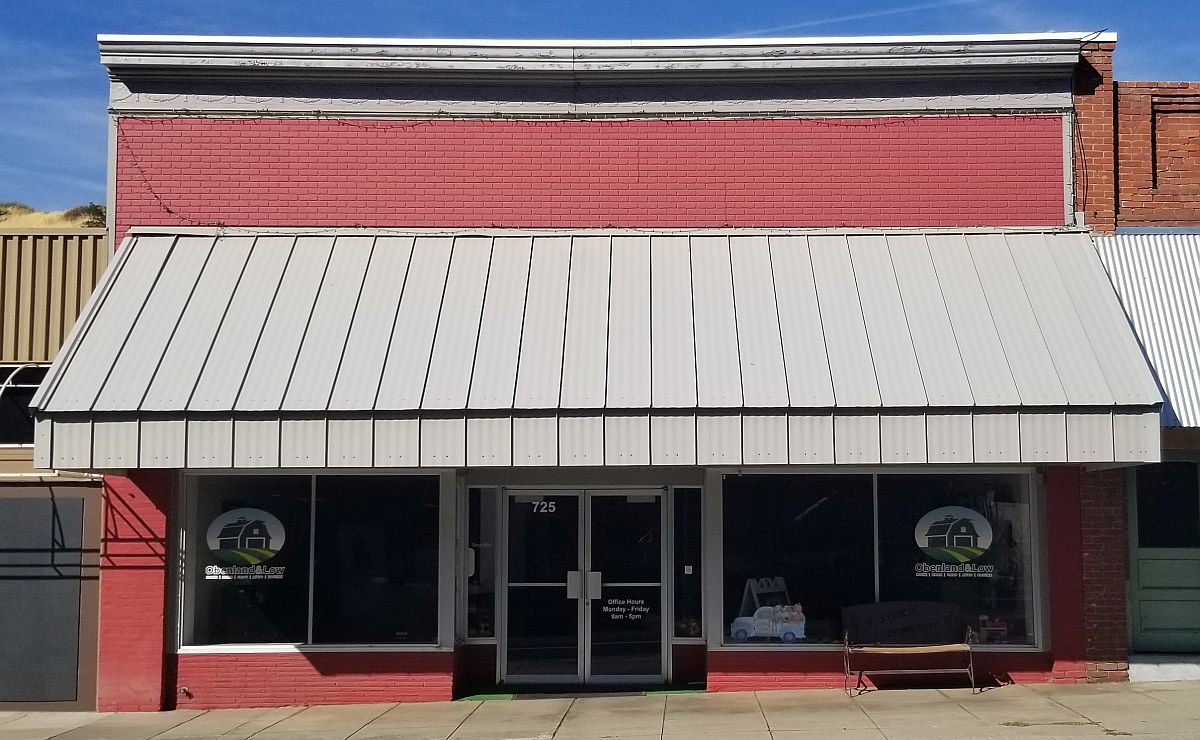 Meyers Harness Shop (Freeman Building) (Site ID 9)
Current (2021) Address: 725 Main Street
1953 Address: 816 Main street, phone 90
Classification: Historic Contributing
According to the 1896 Sanborn Fire Insurance Map, this lot was vacant. The subject building was erected circa 1904 for W.L Meyers' harness shop. A native of Ohio, Meyers came to Pomeroy in 1902 and started his Main Street business. Meyers later expanded his business to include a successful line of hardware, implements, and sporting goods. His son Jack took over the family business after World War II. W.L. Meyers died in 1956.
The business stayed in this location until circa 1960 when the family moved the store to 796 Main Street, the Pomeroy Mercantile Company Building (Emerson-Hull Mercantile). Strains Department Store moved into the vacated structure. In early 1970, the Sears Catalog sales Store, operated by Margaret and Willis Womack, opened. Obenland and Low Agency, Inc. have owned this building since 1982.
The building was also known as the Freeman Building.
The one-story rectangular brick building has a sloped roof concealed by a tall front parapet. The building has a projecting pressed metal cornice decorated with garlands, wood panels covering the spandrel, vertical boards over the transom windows, a metal canopy sheltering the metal storefront windows, recessed central entrance doors, and Roman brick clad bulkheads.
Cultural Data based on
research by Donovan & Associates
W. L. Meyers
A "Brief News" snippet from June 8, 1913, passed on this information:
Mr. and Mrs. W. L. Meyers go to Seattle next week, Mrs. Meyers being a delegate to the federation of Catholics.
Strain's
Sears Catalog Store

With this January, 1970 announcement, it looks like a new business may be coming to town.
March 19, 1971, saw this great news!
Sears Store One Year Old
Willis and Margaret Wommack are celebrating the first birthday of their Sears Merchant Store in Pomeroy this week.
On March 20, 1970 they opened in the Main Street store formerly occupied by Strain's Department Store.
For the celebration—and to show their thanks, to their customers in Pomeroy and Garfield county—they are welcoming everyone to their birthday "party", March 18-20.
It's not every day that you can celebrate ypur first birthday.
New owners for the Sears Store as of November, 1975:
Open House
Mr. and Mrs. Jan Dirks will hold grand opening of the Sears Catalog Store in Pomeroy, which they are now operating, having taken over two weeks ago from Mr. and Mrs. Willis Wommack.
The Dirks, who have a full page advertisement in this issue announcing the grand opening, not[e] they will have refreshments, special buys and a drawing, and welcome everyone to come in and get acquainted.
Obenland & Low Agency
Wandering Pomeroy's Main Street
This Web site has been financed by Castlemoyle Books and Gifts for the Pomeroy Historic Preservation Committee.
The Committee gratefully acknowledges donations of time, photographs, scans, and other
assistance from the Garfield County Museum and individual citizens of Pomeroy and Garfield County.

The Pomeroy Historic Preservation Committee
66 South 7th Street
Pomeroy WA 99347
Copyright © 2002-2021 John R. Gordon