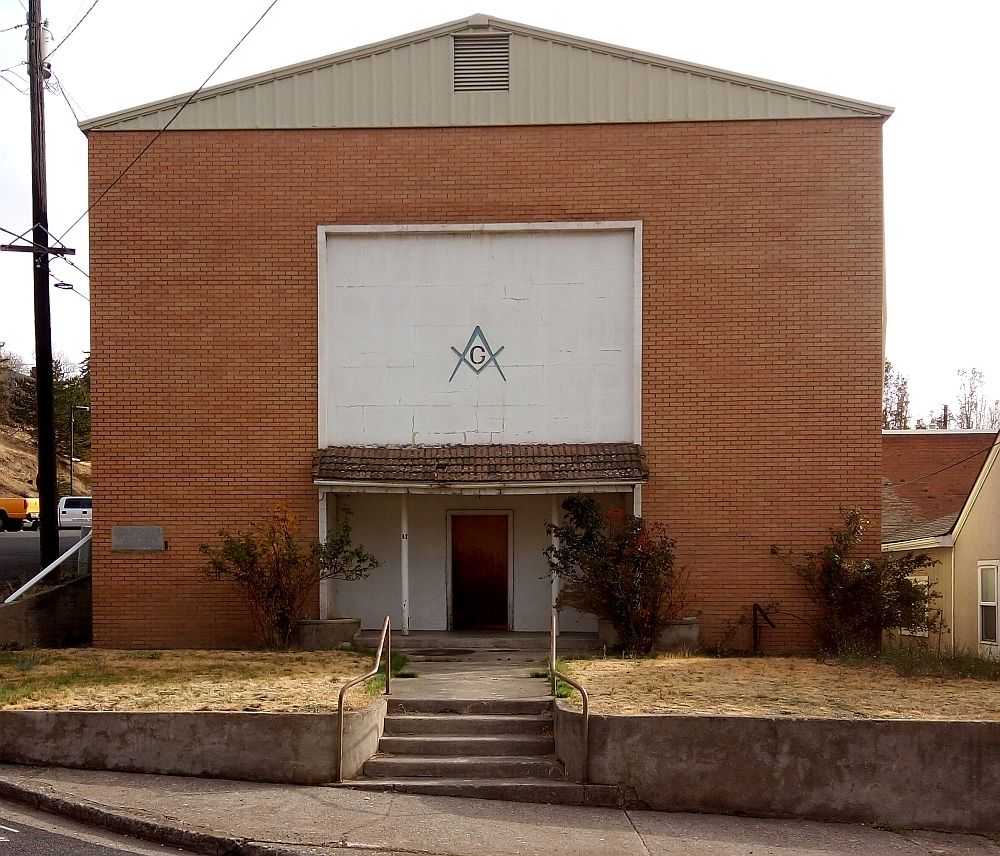 Historic District Downtown Building Inventory
Masonic Temple (Site ID 6)
The Pomeroy Masonic Lodge was first organized on 22 March 1879, as the Evening Star Lodge No. 30 F.M.&A.M. The lodge met in various places including the First National Bank Building (#4) and the Union-Hall. After the Union Hall burned in May 1951, the Masons constructed their own lodge on a parcel of land near City Hall. The lodge received Federal permission from the National Production Authority in September 1951 allowing the organization to use steel and other controlled building material in the construction. The Masons hired Walla Walla architect Mark Houser to design the new structure. In November 1952, the new temple was dedicated and the cornerstone laid. Erected mostly by donated labor under the direction of local contractor Rodney Dye, the new Masonic Temple was built for $75,000. The Masons sold the building to Garfield County in May, 1993. The county sold the hall on 25 October 2000 to an esoteric publishing company. When the publishers closed, the building was sold to a former antique dealer who uses it for storage.
The two-story rectangular Masonic Temple is constructed of concrete block with tan brick veneer cladding on the street elevations. A shallow gable covered with metal seamed roofing was added to the flat roof in 1994; however, the remainder of the building is relatively intact.
Cultural Data based on
research by Donovan & Associates.
From the "Down Memory Lane" column in an April, 1957, E-W looking back at 1952

"A crew of 40 Masons gathered Friday to pour the 39x85 cement floor in the new Masonic hasll in less than six hours."
Wandering Pomeroy's Main Street
This Web site has been financed by Castlemoyle Books and Gifts for the Pomeroy Historic Preservation Committee.
The Committee gratefully acknowledges donations of time, photographs, scans, and other
assistance from the Garfield County Museum and individual citizens of Pomeroy and Garfield County.

The Pomeroy Historic Preservation Committee
66 South 7th Street
Pomeroy WA 99347
Copyright © 2002-2022 John R. Gordon