2009 Funeral Notices and Obituaries for Pomeroy Related People
---
James Cormac (Jim) McCabe
James Cormac (Jim) McCabe, 87, a lifelong Pomeroy resident, died Tuesday, Nov. 17, 2009, at Garfield County Long Term Care Center.
Jim was born on April 6, 1922, in Pomeroy, to pioneer Pomeroy parents, Charles Alexander and Anne Marie Mock McCabe.
He attended Holy Rosary Catholic School until the eighth grade and then attended Pomeroy High School, graduating in 1940. He then attended Gonzaga University at Spokane until entering the U.S. Marine Corps in 1942. During World War II, he served in the Pacific Theater of Operations as a bomb disposal officer. He was a captain at the time of his discharge in 1946. After his military service, he returned to school at the University of Washington in Seattle. He graduated in 1947 and returned to Pomeroy.
Jim married Ruthie Nadine Stallcop in Pomeroy on Sept. 17, 1949. She died Dec. 27, 1984.
He purchased a part interest in Emerson-Hull Company, a department store in town, which he operated until closing it in 1962. He then formed the McCabe Insurance Company, which he owned and operated - along with Garfield Title Company, which he formed in 1968 - until his retirement in 2003.
Jim began as a volunteer fireman with the Pomeroy Fire Department in 1938 and served for 50 years, until retiring in 1988. He was the fire chief from 1967 until his retirement.
Jim was also the Pomeroy city clerk from 1965 until 1987 and served as municipal court judge from 1975 until 1985.
He was a former member and past president of the Pomeroy Kiwanis Club and a member and past commander of the Pomeroy American Legion Post. He was a member of the Pomeroy Veterans of Foreign Wars.
Jim was a member, past grand knight and past district deputy of the Knights of Columbus. He was a communicant, lector, extraordinarey minister of the Eucharistic, and member of the parish council at Holy Rosary Catholic Church.
He was a member and past president of the Garfield County Pioneer Association, as well as a member and past president of the Pomeroy Alumni Association. He was a member of the Pomeroy Chamber of Commerce.
Jim was an adult Boy Scout leader for 10 years, and was an avid lifelong fly fisherman and camper.
Survivors include his son, Wynne, and wife Kim McCabe of Pomeroy; daughters Mollie McCabe of Blaine, Wash., and Sheila and husband Ed DeLozier of Hood River, Ore.; and one brother, Bert McCabe of La Conner, Wash. He also leaves five grandchildren, Wynne and Michelle DeLozier of Oregon City, Ore., Devin and Kimberly DeLozier of Long Beach, Calif., Adam and Annie McCabe of Tacoma, Erin McCabe of Seattle and Collin McCabe of Kennewick; and four great-grandchildren, John Austin, Bennett and Tyler DeLozier of Long Beach and Macie McCabe of Tacoma, with two more due in 2010.
Jim was preceded in death by an infant daughter, Elizabeth Ann; his sister, Kathleen Vassar; and brothers Patrick and Robert McCabe.
A rosary was recited and a funeral Mass was celebrated at Rosary Catholic Church in Pomeroy. Memorials can be made to the Garfield County Ambulance Memorial or the Holy Rosary Cemetery Endowment.
Jack Vernon Fischer
Jack Vernon Fischer went to be with the Lord on Saturday, May 2, 2009.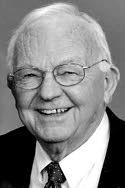 Jack was born in Massillon, Ohio, on Dec. 30, 1931, the second of six children, to Jack and Hazel Fischer. The family moved to Clarkston, where he graduated from Clarkston High School in 1949. He enlisted in the U.S. Navy in 1950 and served four years during the Korean War era as damage control specialist on the USS Merrick.
After his return from the Navy in 1954, Jack and his brother Dave started a restaurant/service station business in Pomeroy, where he met his wife, Shirley. It was a busy year in 1957 - he graduated from Lewis-Clark State College, entered his banking career with National Bank of Commerce, and married Shirley Henriksen.
In 1971 he became the assistant vice president/branch manager of Kennewick's NB of C, where he started his banking career. In 1976 he was promoted to vice president and senior credit officer for the Spokane regional office, and in 1982 he was promoted to the senior credit office. For eight years he commuted to Rainier Tower in Seattle from Edmonds. After 34 years, Jack retired in 1991 as a senior vice president of Security Pacific Bank. His career is distinguished by graduating from Pacific School of Banking, his knowledge of eastern Washington farm credit and as the chief credit officer of Washington state.
Jack was very active in various service organizations and always invested his abilities back into the communities where he lived. He credited his leadership skills to his service in the Navy and being involved in the Jaycee organization. His volunteer highlights include: president, Tri-City Chamber of Commerce; director, Tri-City Nuclear-Industrial Council; and president-director, Mid-Columbia Girl Scouts. Upon retirement, he became very active as treasurer and commissioner of the Williams Lake Sewer District; and district chair for the Spokane Chapter of S.C.O.R.E. (Service Corps of Retired Executives). Jack was also actively involved in each church community where he lived.
Highlights for Jack included beating the Cuban boxing champion while in the Navy; attending any activity his kids or grandchild were involved in; shaking President Bush's hand after he walked off Air Force One at Fairchild Air Force Base in Spokane; and gardening and boating at their home at Williams Lake, near Cheney.
He is survived by his wife of 51 years, Shirley L. Fischer; son Kevin Fischer; son Kelly Fischer and Susan Chon; daughter Heidi and Dean Christofilos; grandson Alex Christofilos; "adopted" granddaughters Rachel and Danielle Sheridan; brother Robert and Shirley Fischer; sister Janice Sorweide; and many nephews and nieces.
A memorial service was held at Fourth Memorial Church, Spokane, officiated by the Rev. Jerry Malone. A reception will follow.
In lieu of flowers, memorial contributions may be made to the Building Fund of Cheney Community Church, 1307 Third St., Cheney, WA 99004; or the Physical Therapy Department of Spokane Veterans Home, 222 E. Fifth Ave., Spokane, WA 99202.
Eva Waldher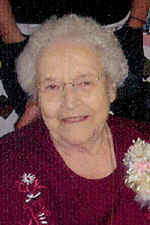 Eva Christine Waldher, a native of Pomeroy, died Tuesday, March 3, 2009, at Tri-State Memorial Hospital in Clarkston.
She was born Feb. 2, 1908, to Herman and Mary Ogden Baden, in a farmhouse south of Pomeroy near the Tucannon District. She attended Skyhawk country school and graduated from Pomeroy High School in 1927.
She married Herman Waldher in 1927, in Pomeroy, and they farmed many years near Pomeroy. Herman later worked at the Waldher Carpenter Shop while she worked at Brown's Drug Store for nearly 30 years.
After retirement, they enjoyed traveling, riding their snowsleds from their cabin at Stentz Springs in the Blue Mountains, and fishing at Chapman Lake near Spokane, where they had a travel trailer permanently located.
She was preceded in death by her husband, Herman, and grandson Terry.
She is survived by her son, Harold and his wife Florine; a granddaughter-in-law, June Kralman Waldher; granddaughters Debbie and Clay Cheek, Michelle Swensen and Inez West; eight great-grandchildren and 10 great-great-grandchildren.
Funeral arrangements are provided by Richardson-Brown Funeral Home in Pomeroy. A rosary was recited on March 6, and a funeral Mass was celebrated the following day, both at Holy Rosary Catholic Church in Pomeroy. Father Bob Turner officiated.
Memorials may be sent to Morning Star Boy's Ranch, P.O. Box 8087, Spokane, WA 99203-0087; or to Memory Manor Nursing Home, Pomeroy, WA 99347.
Sylvia (MacDonald) Warren
Sylvia Frances Warren went home to be with the Lord on Saturday, Feb. 21, 2009. She was born December 23, 1914, to Robert and Clara MacDonald in Port Hill, Idaho.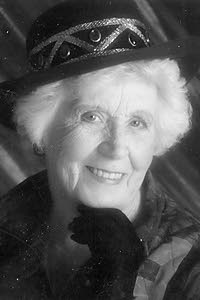 She lived in, and enjoyed, Memory Manor in Pomeroy for the past three years. Previously she lived at Evergreen Estates in Clarkston for a short time but was a longtime resident of Pomeroy. She and her husband Stanley farmed south of Pomeroy (where her son Stan and grandson Justin still farm). Stanley and Sylvia moved into a house they renovated in Pomeroy in 1977. They remained active in many community organizations, including the Nazarene Church, Odd Fellows and Rebekahs, Veterans of Foreign Wars Women's Auxiliary and Pleasant Grove Grange.
She was the beloved mother of six children and spent most of her life tending to the needs of a farm family. She worked on the farm, tending header on the old combine in earlier years and then went on to driving truck later. She also was instrumental in remodeling two large houses and converting them to four-unit apartment buildings. She managed them for many years. She loved having guests and preparing big meals. She worked hard to keep the flower gardens and especially her rose garden beautiful.
She was preceded in death by her husband Stanley and her son Willis.
She is survived by her sons and their wives, Howard and Irene, Stan and Karen, and Sam and Diana; also by daughters and their husbands, Carmelita and Dave, and Kandis and Allen. She had 25 grandchildren and 16 great-grandchildren.
Services were held on Thursday, February 26, at the Nazarene Church in Pomeroy, with a reception afterward.
Memorials can be given to the Nazarene Church (135 9th Street, Pomeroy WA 99347) to Memory Manor (c/o Garfield County Hospital, 66 N 6th Street, Pomeroy WA 99347) or another of your choice.