2006 Funeral Notices and Obituaries for Pomeroy Related People
Darrel Ray Bartels (1930-2006)
Darrel Ray Bartels, 76, of Pomeroy, passed away Wednesday, August 2, 2006. He was born in Garfield County February 16, 1930, to Johnnie W. and Mabel V. Colwell Bartels. The doctor came to deliver him in a snowstorm. Drifts formed and the doctor had to be pulled out to the highway by horse and buggy.
Darrel grew up on his parents' farm, attending a one-room country school until he was 13. He graduated from Pomeroy High School in 1949 and served in the U.S. Army from 1950 to 1951.
On June 14, 1953, he married Barbara Trescott, who survives him at their home.
Darrel worked as a parts man for General Tractor until he opened Darrel's TV Sales and Service in Pomeroy, which he ran for 27 years. He then spent eight years at Pomeroy Grange Supply.
In retirement, he loved driving grain truck for his son-in-law Greg. He had a distinct ability to work and have fun at the same time. He could have founded the American Pranksters Association.
A person who loved people, he belonged to the Pleasant Grove Grange, Washington Flying Farmers, the Pomeroy Methodist Church, and was an emergency medical technician. He was a past president of the Jaycees, Chamber of Commerce, Alumni Association, Pioneer Association and Garfield County Hospital Board, all in Pomeroy.
Darrel left a legacy of love felt by those who knew him, as well as a legacy that, beyond the grave, life continues. A graveside service was held at the Pomeroy City Cemetery followed by dessert at the Methodist Fellowship Hall in Pomeroy.
Other survivors include two daughters, Cindi Herres and Julie and Greg Scott; one son, Allen Bartels and fiancee Deb Rowell; eight grandchildren; three great-grandchildren; and a brother, Duane Bartels, all of Pomeroy; sister, Phyllis Stallcop of Pullman; and several nieces and nephews, all in whom he delighted.
His parents, a brother, Denzil, and an infant son, Darren Lee preceded him in death, as well as beloved cousins Julia Rickman and Ella Porter.
Donations may be made to the Alzheimer's Association or the Pomeroy Methodist Church in care of Richardson-Brown Funeral Home in Pomeroy.
Betty W. (Shawley) Keatts
Betty W. Keatts passed away peacefully on Sunday, Sept. 24, 2006, at her daughter's home in Lewiston, with family at her bedside, after a courageous battle with cancer.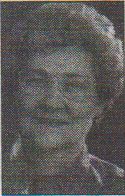 Betty was born on May 2, 1917, in Garfield County on the Shawley Homestead at Pataha Flat. She attended Pataha Flat School and graduated from Pomeroy High School in 1936. After graduation she worked at Emerson Hull Department Store and Dr. Sherfey's.
Betty was the middle child of James Ernest and Kate Aurene Williamson Shawley. She married James Richard Keatts on Aug. 25,1940, in Pomeroy.
Together the couple owned and managed the Revere Hotel in Pomeroy for seven years, and then a motel at Hermiston for two years. They then moved back to Pomeroy to farm until 1983, when they moved into town after retiring.
Betty was a member of St. Peter's Episcopal Church in Pomeroy. The couple adopted three daughters in 1957.
Betty was preceded in death by her husband Richard in 1997; her parents; and two sisters.
She is survived by her three daughters and their spouses, Suzanne and Bob Burge of Clarkston, Linda and Jerry Jackson of Spokane, and Dorothy and Ken Bausch of Lewiston; grandchildren and great-grandchildren, Michael and Jeanette Ruchert and Michaela; Todd and Alesia Ruchert, Makenzi, Taelor, Mitchell, and Max; Paige and Todd Danielson, and Kate; Jennifer Johnson, Shane and Cody; Jason Jackson; Karlee and Tim Meade, Tyler, T.J. and Chase; Angela Bausch, Stephen Bausch, Sayler and Tai; Michelle Bausch and Bailey.
A memorial service was held at Mountain View Funeral Home in Lewiston, with burial at Pomeroy Cemetery following the service.
Memorials may be made to St. Joseph Family Hospice, P.O. Box 79, Lewiston, ID 83501.