Saturday, May 12, 1919
Page 1
HARRY BARTLOW IN FIRST AMERICAN DRIVE
Pomeroy Boy Went Over the Top at Cantigny, Soissons and St. Mihiel
COMPANY REDUCED TO 18 MEN
Was Wounded in Thigh by Rifle Bullet October 9 and Sent to Hospital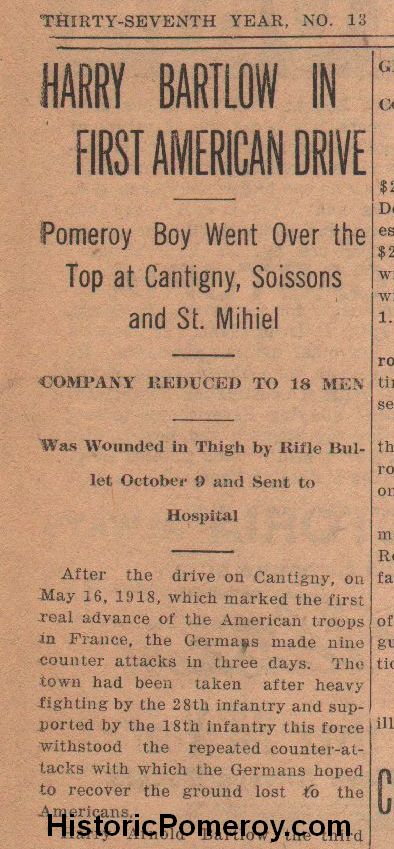 After the drive on Cantigny, on May 16, 1918, which marked the first real advance of the American troops in France, the Germans made nine counter attacks in three days. The town had been taken after heavy-fighting by the 28th infantry and sup­ported by the 18th infantry this force withstood the repeated counter-attacks with which the Germans hoped to recover the ground lost to the Americans.
Harry Arnold Bartlow, the third son of Rev. and Mrs. S. Bartlow of Pomeroy, served in the 18th. The first division continued to hold the lines in the vicinity of Cantigny until the seventh of July, when it was moved back for a rest.
But conditions made it necessary to put this division back in action, and it was ordered to Soissons, almost im­mediately.
For five days the first division drove eastward towards the city of Soissons. Here fighting was so furi­ous that relief at the end of the five-day period became imperative. The ranks were sadly depleted, young Bartlow's original company having been reduced to 18 officers and men.
After a rest on the Toul front, then quiet, the division was ordered back to receive replacements and training.
On the llth of September the first division went over the top at St. Mihiel, but after two days it was pressed out of action by the shortening of the lines. During the general advance at Verdun on October 9, Harry Bartlow was hit in the thigh by a rifle bullet and put out of the fighting for the rest of the war.
After being operated on and receiv­ing treatment at several hospitals in France, he was sent home as a pa­tient.
He arrived at Camp Lewis on Feb­ruary 14 and was discharged in April 8.
Mr. Bartlow is still slightly lame and may remain so for the rest of his life.
He says his treatment in the hospi­tals was good and that he has no complaint to make of the conduct of any of the officers under whom he served.