United Artisans Organize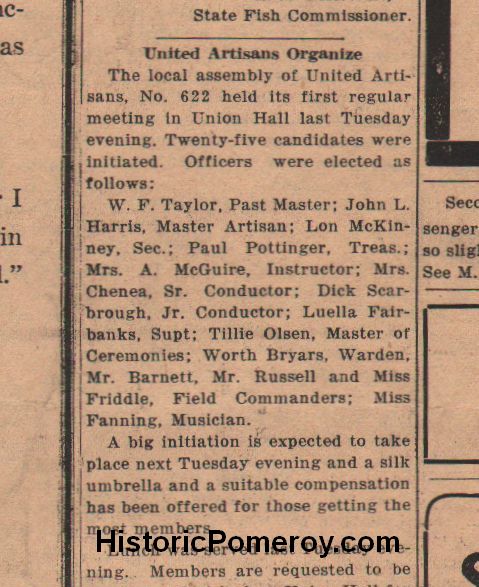 The local assembly of United Artisans, No. 622 held its first regular meeting un Union Hall last Tuesday evening. Twenty-five candidates were initiated. Officers were elected as follows:
W.F. Taylor, Past Master; John L. Harris, Master Artisan; Lon McKinney, Sec.; Paul Pottginger, Treas.; Mrs. A. McGuire, Instructor; Mrs. Chenea, Sr. Conductor; Dick Scarbrough, Jr. Conductor; Luella Fairbanks, Supt; Tillie Olsen, Master of Ceremonies; Worth Bryars, Warden; Mr. Barnett, Mr. Russell and Miss Friddle, Field Commanders; Miss Fanning, Musician.
A big initiation is expected to take place next Tuesday evening and a silk umbrella and a suitable compensation has been offered for those getting the most members.
Lunch was served last Tuesday evening. Members are requested to be present at 8 o'clock at Union Hall for the next meeting.
COMMITTEE.
Personal Mention
M. A. Black arrived from Portland Saturday.
'Phone 33.--Nicholson's Market. 2-3
H. B. Henley arrived Monday from a trip to Southern Idaho.
Drive an Essex and see the difference. McKeirnan Bros. Co. tf.
Mr. and Mrs. W. C. Roller left Tuesday for Hot Lake.
Hub, Mica, Frazer axle grease. Lubricating and machine oil. Crozier & Soper. 12-tf.
Mrs. C. K. Wood and children left Monday to visit relatives at Prescott.
Use the "General Tire." Why? Because it gives better service. Service Tire Shop.
The J. M. Felthouse garage has taken the agency for the Buick cars.
Furniture shoes make the moving of your heavy bed and tables easy. See them. Vassar & Son. 11-tf
Mrs. John Lee and her little daughter left Tuesday for a trip to Walla Walla.
Put a U & J carburetor on your Ford, Dodge or Maxwell car and get more pep, more miles, and more satisfaction out of motoring. Agency at Service Tire Shop. 11-tf
Mrs. John Kassel arrived from Walla Walla Sunday.
ooOoo