Display windows mostly covered for privacy, the McKeirnan Hardware Building is now a private residence
Historic District Downtown Building Inventory
McKeirnan Hardware and Implements (Site ID 57)
Current (2021) address: 99 South 7th Street
1953 address: 854 Columbia, Telephone 50
Classification: Historic Contributing
Burlingame Hall (also known as Seeley Hall), constructed in 1879, was moved to this site in 1913 prior to construction of the New Seeley Theatre & Opera House. The Hall was demolished in the 1930s and the site remained vacant.
The McKeirnans purchased the lot in 1945 and began construction of their new store and show room in 1946. R.J. McKeirnan, shortly before his death in 1938, designed the Moderne/Art Deco style building. The building was not erected until 1946 because of the Depression and World War II. McKeiman's heirs constructed R.J.'s original design after World War II. The $25,000 building had modern canted showroom windows on two elevations. The structure is now used as a residence.
The one-story concrete structure, has decorative ribbing along the top of the spandrel and along the edge of the concrete canopy sheltering the display windows. The steel frame display windows are slightly canted out at the top to deflect reflections. Concrete pilasters separate the display windows, and a rectangular bay on the northwest comer has a vertical row of glass block. Rounded concrete stairs on the southwest comer lead up to the double entrance doors that have large central glass panes.
Description and much of the Cultural Data based on
research by Donovan & Associates
Excavation work on the basement for the new $35,000 store building of McKeirnan Hardware & Implement co., south of the Seeley theatre, was started this week by Ernest Poe of Clarkston.
-- Down Memory Lane column for 1946 in the 5/16/57 issue of the EW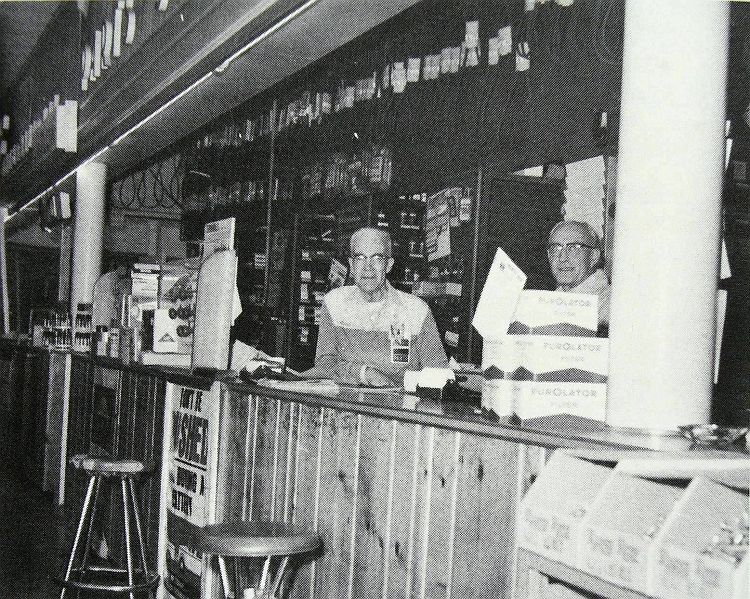 Happy faces behind the counter of McKeirnan's Hardware and Implements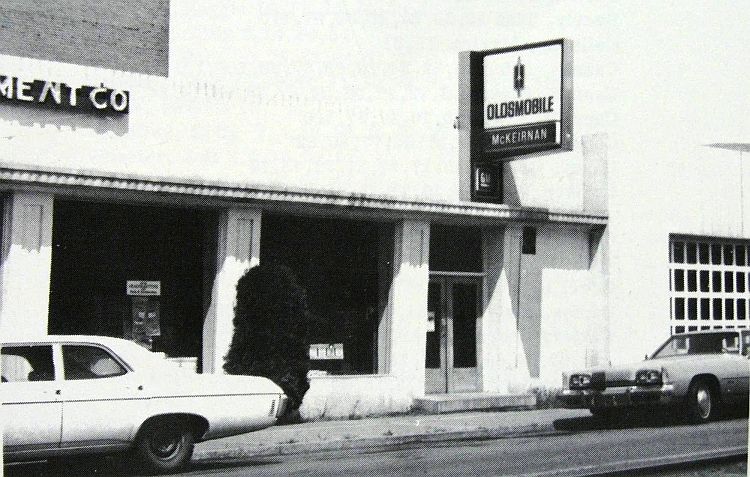 The "side" entrance to McKeirnan's Hardware and Implements down on Columbia Street
Wandering Pomeroy's Main Street
This Web site has been financed by Castlemoyle Books and Gifts for the Pomeroy Historic Preservation Committee.
The Committee gratefully acknowledges donations of time, photographs, scans, and other
assistance from the Garfield County Museum and individual citizens of Pomeroy and Garfield County.

The Pomeroy Historic Preservation Committee
66 South 7th Street
Pomeroy WA 99347
Copyright © 2002-2023 John R. Gordon