Historic District Downtown Building Inventory
Christensen Machine/Dixon Garage (Site ID 27)
Constructed circa 1905, the 60'x50' structure housed a blacksmith's and wagon maker shop. The building had a 35'x70' wood workshop addition attached to the rear elevation. By 1930, the concrete structure had expanded to 60'x120' with machine and wood working shops in the east half and a garage in the west half. The building was occupied by Christensen's Machine Shop and Dixon's Garage (Clayton). Chris Christensen, a native of Denmark, settled in Pomeroy to work as a blacksmith and machinist in the shop of George Davis. The same year, Christensen purchased the business with partner J.A. Craig. Circa 1915, Christensen purchased the entire business, and ran the business until circa 1937 when he sold the shop to his son, Bert, and J.R. Denison. Chris Christensen died in 1940 and the shop continued under the name Christensen-Denison Machine Shop for years
At the time of the Historic District nomination, Fruh's Repair Shop currently occupied the building. The business was purchased and renamed Krouse Machine Shop in 2020.
The one-story brick building has a flat roof with a raised parapet decorated with a corbeled coursing. The front (north) facade has two large central service doors flanked by original two-over-two double-hung wood sash segmental arch windows with defined hoodmolds. The eastern door has been modified in size over time and a metal roll-up garage door installed. The rear (south) side has original six-over-six double-hung wood sash windows, and a freight and pedestrian, door. The basement level is exposed on the rear elevation.
Description and Cultural Data based on
research by Donovan & Associates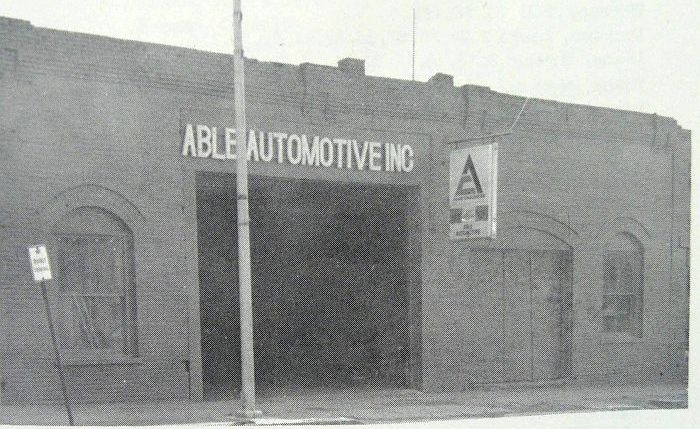 An undated photo of ABLE Automotive
A front page article in the May 27, 1971 East Washingtonian gave the news:
ABLE Tractor Formed By Bartlow, Triangle
The owners of Triangle Automotive, Inc. and Ells Bartlow of Bartlow Tractor & Implement Co., announce the merging of their two firms into Able Tractor and Imipleiment Co.
Triangle's owners, Al Anderson, Bus Fanning and Laurence Lewis, together with Bartlow, said they would continue to operate in both locations.
The merger combines one of Pomeroy's oldest businesses, Bartlow Tractor & Implement Co., with predecessors dating back to 1916-17, and one of Pomeroy's newest, Triangle Automotive, formed in 1967.
Oscar Bartlow started business on Main street in 1916 with a partner, Fay I. Parlet. They sold Maxwell and Chalmers cars.
In 1917 Mr. Parlet left the association and Oscar continued on as Bartlow's Garage and the Harris Harvester dealership was taken on. This dealership he operated continuously until 1960 at which time J. I. Case acquired the Harris Harvester Co.
In 1945 Ells returned from the Navy Air Force and became associated with the business for one year before returning to college for two years. After graduating from Whitman College in 1948 he has been continuously associated with the business.
In 1953 the Jeep franchise was added along with Minneapolis Moline and in 1960 Bartlow Tractor & Implement Co. became the local representative for the Allis Chalmers line of machinery.
Oscar Bartlow was active in the business until 1965. He still makes the 8 block walk from home to the store on good days to see if everything is going O.K.
Al Anderson worked for McKeirnan Hardware & Implement Co. for 9 years, than Bartlow for a year before starting his own business behind the ASCS-SCS building in 1963. About 1965 he moved to the present location, the former Krouse Machine Shop. In 1967 Fanning and Lewis joined him in incorporating Trangle.
Bus Fanning worked in Butler's Ford Garage for five years, then in McKeirnan's for 22 l/2 years before joining Triangle. Laurence Lewis worked for Pioneer Farm Chemicals, repairing machinery in the shop and working as a field man, before he came to Triangle in 1967.
A June, 1975, EW article talked about the new line at ABLE:
Able Sells Equipment
Able Automotive, Inc., Pomeroy, Washington, is a new dealer for White Farm Equipment Co. farm machinery and outdoor products. The owners of Able Automotive are N. E. Bartlow, Lawrence Lewis and U. G. Fanning.
White Farm Equipment Co., a subsidiary of White Motor Corporation, is manufacturer anbd marketer of wheel tractors, combines and tillage and planting equipment. Brand names include White, Oliver, and Minneapolis-Moline.
Wandering Pomeroy's Main Street