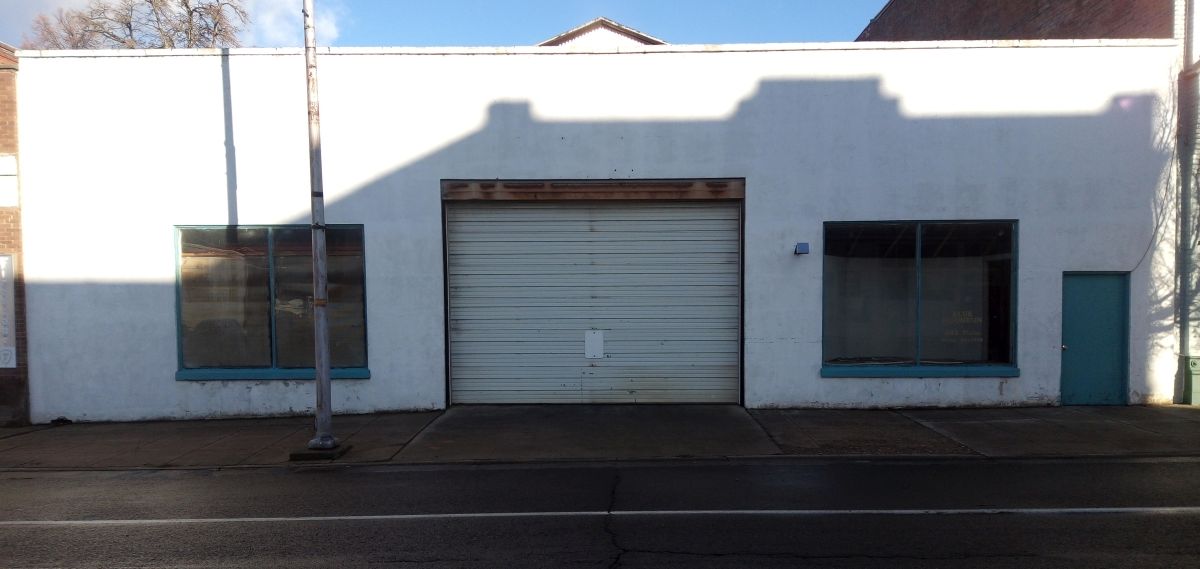 Historic District Downtown Building Inventory
McKeirnan Storage (Site ID 3)
Classification: Historic Non-Contributing
The one-story building has a built-up hip roof partially concealed by a parapet. Originally built with concrete block, the exterior has been covered with stucco. The front facade has a central metal roll-up garage door flanked by large single light metal sash windows. A pedestrian door (replaced) is on the east side of facade.
According to the 1896 Sanborn Fire Insurance Map, a livery originally stood on this site. By 1922, the Hadley Motor Co. Garage was on the lot, and by 1930, a machine shop and storage business utilized the structure. This machine shop was demolished when Chuck McKeiman erected the current building as a repair shop/storage area in 1949. At the time of the Nomination, the building was occupied by Blue Mt. Truck & Auto. The building is currently used as storage by Farm and Home Supply, located to the west.
Based on research by Donovan & Associates.
Wandering Pomeroy's Main Street
This Web site has been financed by Castlemoyle Books and Gifts for the Pomeroy Historic Preservation Committee.
The Committee gratefully acknowledges donations of time, photographs, scans, and other
assistance from the Garfield County Museum and individual citizens of Pomeroy and Garfield County.

The Pomeroy Historic Preservation Committee
66 South 7th Street
Pomeroy WA 99347
Copyright © 2002-2021 John R. Gordon