2014 Funeral Notices and Obituaries for Pomeroy Related People
Bill Cardwell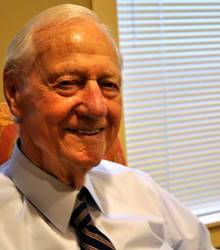 Bill Cardwell was born Nov. 20, 1915, in Pomeroy. He died peacefully in Seattle just before his 99th birthday (2014).
He grew up in Pomeroy and graduated from Pomeroy High School in 1933. After a year of helping build the family retail business, he attended the University of Washington. He graduated with a bachelor's degree in business and finance in 1938. While in school, he met Mary Kay Taper. They were married June 1, 1939.
They moved to Pomeroy, where Bill worked in the family department store. He joined the U.S. Navy during World War II. They sent him to Harvard for training, then stationed him in Hawaii, where he encrypted military messages. He returned from the service in 1946; he and Mary Kay bought Cardwell's Department Store in 1949. From 1964 to 1967, they opened a second business, a craft shop called The Variety Store. Bill sold the business in 1972, ending 73 years and three generations of family ownership in Pomeroy.
He consistently gave his time as a merchant, a school board member and an active community volunteer to help make Pomeroy a great place to live. He strongly supported Scouting. He became an Eagle Scout at the young age of 13. Scouting definitely made an impression, and set important standards that he followed throughout his life. As an adult, he spent decades as a Scouting volunteer for Boy and Cub Scouts, and encouraged his four sons to become Eagles. For his dedication, he was awarded the Silver Beaver Award, the highest honor for Scouting leaders. Privately, he thought about the Scout laws daily as a compass for living his life. He was trustworthy, loyal and helpful to family and friends. He was courteous and kind to everyone. He maintained a positive and cheerful attitude, and took responsibility for a happy and productive life. He was concerned about the needs of others. He was brave and always played a clean game. He believed in God, church and country.
Bill had a strong work ethic. He always kept a to-do list and put in long hours at the store. He enjoyed family, gardening and athletics. He loved to golf. He retired in his mid-50s and continued to play two or three rounds a week until he was 93!
Bill and Mary Kay lived most of their lives in Pomeroy. They moved to Walla Walla in 1995. Mary Kay died Jan. 24, 2010. In January 2012, Bill moved to the Foundation House in Bothell, Wash., a friendly and happy independent living facility located close to family. Throughout his entire life he was physically and mentally active, with a remarkable memory for people and events.
Bill is survived by four sons and their spouses, Rich (Suzanne) of Seattle, Ray (Gail) of Edmonds, Washington, Jim (Karla) of Orlando, Florida, and Chris (Mary) of Lake Sammamish, Washington. He leaves nine grandchildren and 13 great-grandchildren.
Bill was a lifetime member of St. Peter's Episcopal Church. Funeral services will be held at 10 a.m. Saturday in Pomeroy at the Richardson Brown Funeral Home. He died feeling happy and humble about the life he was able to lead. He was deeply loved by his family and friends and will always be missed.
Jeanne Adayne (Ingram) Barkhuff
Jeanne died at Tri-State Medical Center in Clarkston on Friday, July 25, 2014. She was 91. Jeanne was born on October 22, 1922, and was the second daughter of Dr. and Mrs. Jesse Ingram of Walla Walla, WA. She grew up in Walla Walla and graduated from St. Paul School for girls. Jeanne attended Washington State University where she met Floyd H. Barkhuff. They married on Oct. 2, 1943. She lived the life of a farmer's wife on the wheat/pea/barley and cattle family homestead farm in the Colton area until her husband's death in 1971. She enjoyed crocheting, knitting, crossword puzzles and reading the daily paper.
Jeanne was preceded in death by her parents, her sister, her husband Floyd and her daughter Virginia. She is survived by son Bruce and his wife Connie of Pomeroy; daughter Paula Flathers of Pullman; son Gordon of Virginia Beach, Virginia, and son Dale of Fairbanks, Alaska. She also is survived by 11 grandchildren, 18 great grandchildren and numerous cousins, nieces and nephews.
A memorial service was held at Kimball Funeral Home, Pullman, on Friday, August 1, 2014 followed by graveside services at Pullman's IOOF Cemetery. The family requests any memorial contributions be made to a favorite charity.