Elma Trescott
Funeral services were held Monday for Elma Trescott, who died Thursday[, April 29, 1985,] at Garfield County Memorial Hospital. She reached her 80th birthday on the day she died.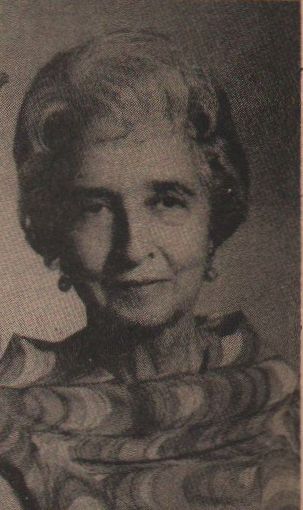 She was born April 29, 1902, at Salt Gulch, Utah, the daughter of Joseph and Lulu Ogden. When she was 11 her parents moved to the Tucannon area south of Pomeroy and she attended the Scoggin and Russel schools in that area.
The family moved to Boulder, Utah, in 1916 but she returned to Pomeroy four years later. She married Elmor Trescott at Pomeroy Dec. 16, 1920.
Mrs. Trescott was a substitute mail carrier in the area between Pomeroy and Central Ferry for 33 years. She also worked for the Green Giant Co. at Pomeroy and cooked at the hospital. She was an avid hunter and rock collector.
She was a member of the Pomeroy Christian Church, the Pomeroy chapter of the Order of the Eastern Star, the Pataha Valley Gem and Mineral Club and the auxiliaries of the Pomeroy American Legion and the Veterans of Foreign Wars posts. She was a 51-year member of the Pleasant Grove Grange.
She is survived by her husband and three daughters, Vivian Trescott, Elaine Anderson and Barbara Bartels, all of Pomeroy, two brothers, Jay Ogden of Albany, Oregon, and Bert Ogden of Omak; two sisters, Letha Mortimeyer of Albany, and Neoma Smith of Omak, nine grandchildren and nine great-grandchildren.
The Rev. Howard Neal officiated at the services held at Richardson-Brown Funeral Home. Music was by Caroline Kazda, Julie Bartels, Edith Hill and Barbara McClanahan. Kathryn Johnson was organist.
Honorary bearers were Edgar Fanning, Cecil Rommel, Francis Waldher, John Dye, Virgil Kimble, Harold Graham, Frank Henriksen and John Armstrong. Active bearers were Lloyd Crawford, Clarence Roller, Tiny Ogden, Dave Slaybaugh, Jim Weimer, and Bryce Abraham.
Burial was in the Pomeroy City Cemetery.
The family has suggested any memorials be donations to Memory Manor Nursing Home at Pomeroy.