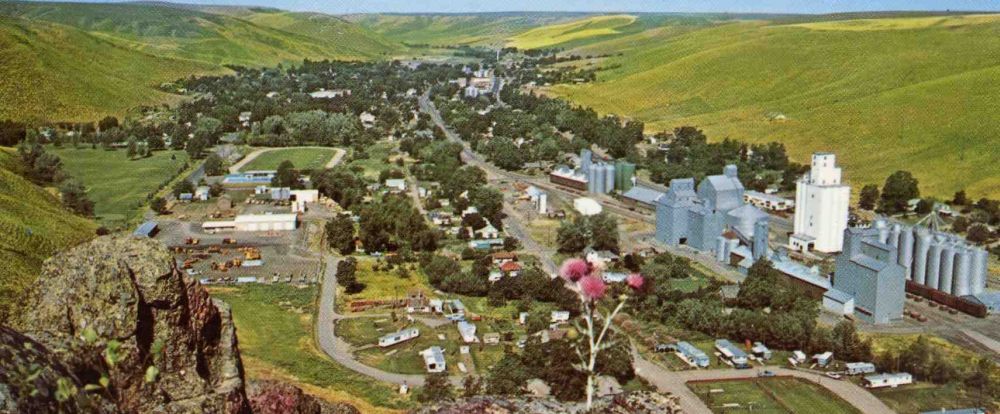 East Washingtonian
May 7, 1936
page 1
A. Obenland Wins Trip to Havana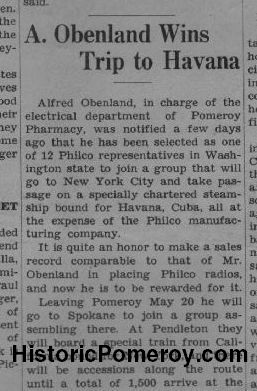 Alfred Obenland, in charge of the electrical department of Pomeroy Pharmacy, was notified a few days ago that he has been selected as one of 12 Philco representatives in Washington state to join a group that will go to New York City and take passage on a specially chartered steamship bound for Havana, Cuba, all at the expense of the Philco manufacturing company.
It is quite an honor to make a sales record comparable to that of Mr. Obenland in placing Philco radios, and now he is to be rewarded for it.
Leaving Pomeroy May 20 he will go to Spokane to join a group assembling there. At Pendleton they will board a special train from California bound for New York, and there will be accessions [possibly additions?] along the route until a total of 1,500 arrive at the metropolis. The Philco tour will be strictly a men's party. While some time will be devoted on board to sales instruction, a complete schedule of entertainment has been worked out, and there should be no dull moments.
Embarking May 24, the 1,500 men will arrive in Havana two days later. After seeing the sights of Cuba, in a well planned two-day tour, the party, will board the ship and start back to New York.
On the way home from New York, Mr. Obenland will atop off to visit two or three factories. There are to be three groups of 1,500 each, all record salesmen, who will be given similar trips this year, all at the expense of the Philco company.