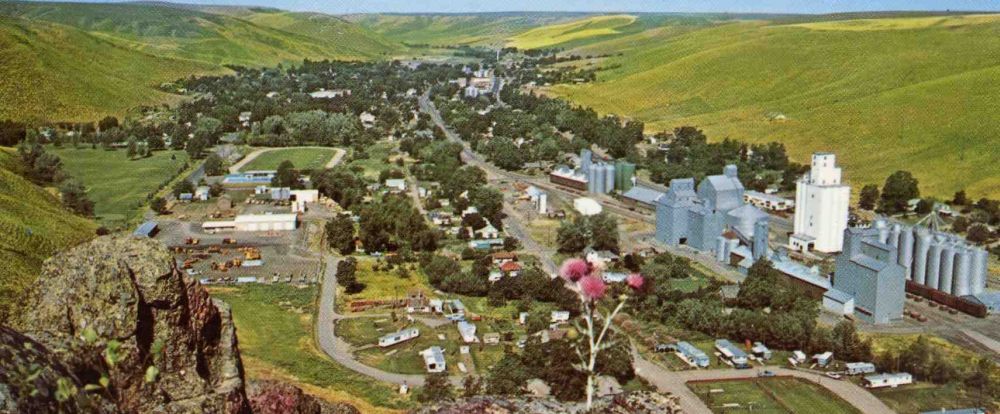 East Washingtonian
June 30, 1960
page 1
Five Injured, Three Hospitalized Sun.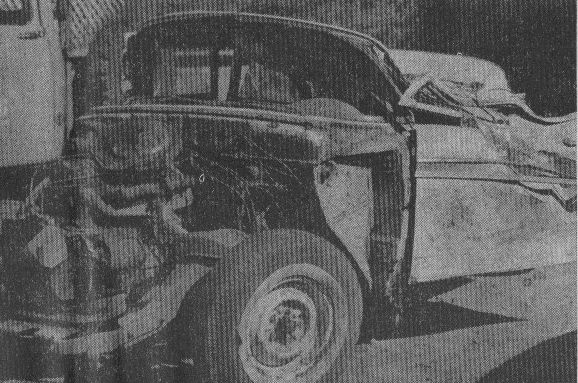 NOT MUCH LEFT -- This 1957 Ford tudor side-swiped three trees before coming to a rest against a fourth Sunday evening, compoletly defaced the automobile beyond recognition. The roof of the car was laid flat upon the rear seat which held two passengers practically unharmed. Five were injured, three seriously.
An accident that left Pomeroy in a daze all this week put three Pomeroy youths in the Garfield County Memorial hospital in serious condition Sunday evening and two others were given medical treatment.
The 1957 Ford, owned and driven by Kenneth Miller, 23, Pomeroy, went out of control on a curve one mile south of Pomeroy on the 3-K highway, rolled once and side-swiped four trees, seriously injuring Miller, Lonnie Flynn, 20, Pomeroy, and Bill Waldron, 19, Pomeroy, all front seat passengers in the vehicle. Gilbert Brenner, 17, Pomeroy, and Bob Bergdahl, 15, Richland, were back seat occupants and received bruises and were not hospitalized.
The attending physician reported that the three in the hospital are recovering in satisfactory condition but will be confined for some time for observation.
Miller is reported to have received multiple abrasions, contusions and bruises on the head and body. X-rays revealed that Flynn and Waldron both have fractured vertebrae and will be placed in braces as soon as they can be moved. Flynn also received chest injuries and a cerebral concussion, but internal complications to any of the boys is not evident at this time. Flynn was in an unconscious state Sunday night and the others suffered from shock.
Gilbert Brenner complained of pain in his right foot Wednesday and x-rays revealed a fractured bone and the member was placed in a cast yesterday afternoon. Bergdahl is reported to be suffering no ill effects and is at his uncle's home.
Washington State Patrolman Doyle Pounder of Clarkston said that Miller's car was headed toward Pomeroy at a high rate of speed when it failed to negotiate a curve and shot out onto the road shoulder.
During the twisting and rolling of the automobile both Flynn and Miller were thrown from the car and were found under it but neither were pinned.
At the point of impact the hood, both fenders, the grille and the radiator of the car were pulled off the auto ana thrown about 30 feet on down the road and came to rest eight feet up in the fork of a fifth tree. Bolts holding the front section of the car on were ripped from the body and were still connected to their corresponding parts. The bolts in the Y-frame holding the bumper on are visible in the picture which left only a hole in the bumper where they were. Pounder said the vehicle is damaged beyond repair.