Rural Mail Routes Are Cut To Three
Beginning Saturday, January 11 there will be just three rural routes out of the Pomeroy post-office instead of the four that have operated for many years, announces Ronald Chard, postmaster.
The only route that will remain exactly the same without any changes is route 3 which will be taken over by George Atkins who is now carrying route 2. Rural route 3 was carried for many years by Elmor Trescott who retired a few months back. Temporary carrier on the route is his wife, Mrs. Trescott.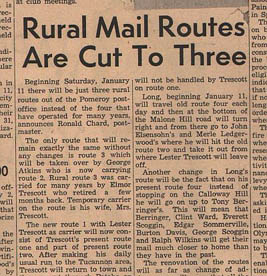 The new route 1 with Lester Trescott as carrier will now consist of Trescott's present route one and part of present route two. After making his daily usual run to the Tucannon area, Trescott will return to town and then go out through Pataha on Atkins' present route to Don Stallcop's and then turn and come back in by Lester McKeirnan's and the McKeirnan grade. He will also take over 10 of the present route four boxes now serviced by Claude Long: Feider Brothers, Cyrus, Clark Long, Burton Jeffreys, Carson Bell, Ronald Wills, James Gwinn, Pat Herron, Robert Bingman and James Weimer. Another change in route one will be the fact that on Trescott's present route instead of going up the Neibel grade he will go down the draw and come back Linville gulch. He has been going this route each year from December thorugh March, but will now make it the year around.
Route two will be handled by Claude Long who is now the carrier on route four. Long will handle his present route four which will hereafter be called route two and will also take over part of old route two which will not be handled by Trescott on route one.
Long, beginning January 11, will travel old route four each day and then at the bottom of the Malone Hill road will turn right and from there go to John Elsensohn's and Merle Ledgerwood's where he will hit the old route two and take it out from where Lester Trescott will leave off.
Another change in Long's route will be the fact that on his present route four instead of stopping on the Galloway Hill he will go on up to Tony Berringer's. This will mean that Berringer, Clint Ward, Everett Scoggin, Edgar Somnierville, Burton Davis, George Scoggin and Ralph Wilkins will get their mail much closer to home than they have in the past.
The renovation of the routes will as far as change of addresses go will mean that all the patrons of route four, with the exception of those already mentioned that are scheduled to go on route one, will now have a route two address.
The following boxes now on route two will have a route 1 address after January 10: General Tractor, Jim Scoggin, John Samuel, Troy Ledgerwood, Ron Crawford, William Martin, Ed Landkammer, J. H. McKee, Clem Hopkins, Ted Landkammer, Ed Frankele, Larry Laughery, Ida Dunlap, Mel Scott, August Strom, Max Trosper, Fred Scoggin, Roy Wright, Julius Nickels, Norman Donaldson, Jeff Kraiman, Raymond Gentry, Clint Gable, Dean Brown, Ed Feider, Ab Parker, T. J. Byers, Harrison Munch, Al Lundeby, Clyde Coon, Floyd Porter, M. P. Sitz-berger, Don Ruchert, Robert Dye, F. A. Hand, Don Burnett, Ernest Tidwell, E. F. Koller, Clay Cotton, George Wemecke, Willard Flynn, Lyle Watson, Otto Jones, Virgil Reavis, Francis Manning, Jim Kresse, Norman Luvaas, Tom Becker, David Crumpacker, Wayne Brown, Richard Keatts, Joe Ledgerwood, P. C. Donley, John McKeirnan, George Stallcop, Emory Dye and Don Stallcop.
The difference in mileage, etc. between the new routes and the old is as follows:
Route 1—present mileage, 34.4 miles; new milage, 68.05 miles; boxes, now, 65; 'boxes after change, 125; number of families served now, 81, and number after change, 150.
Route 2—present mileage, 38.75 miles; new mileage, 80.30 miles; present boxes, 84; boxes after change, 110; families served now, 91, and after change, 113.
Route 3—No change; the present mileage is 52.79 miles; boxes, 57, and number of families, 70.
Route 4—56.80 miles discontinued and put into route 2.
The route change came about mainly because of the retirement of Elmor Trescott. Every time a carrier retires a postoffice inspector is sent into the postoffice affected to see if any consolidation can be made or if another carrier should be appointed to take the place of the retiring carrier. After Trescott retired an inspector came in and reported that a consolidation could be made, bringing about a saving in money to the taxpayer with no curtailment in service to the rural patrons.
Postmaster Chard says that all paitrons who will have a new carrier starting January 11, will be left slips on which to fill in the names of all members of their families in order to assist the new carriers.
Chard asks that all patrons who will have different route numbers to change the address on their magazines and other mail as soon as possible as it will help greatly in the sorting of the mail. He also asks that those who will have to change the location of their boxes to contact their carrier as to the proper place to re-locate the box.
oo O oo