Pomeroy Without Power Six Hours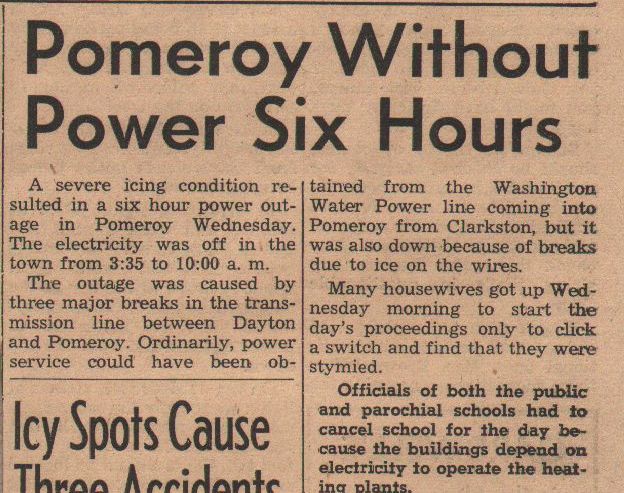 A severe icing condition resulted in a six hour power outage in Pomeroy Wednesday. The electricity was off in the town from 3:35 to 10:00 a. m.
The outage was caused by three major breaks in the transmission line between Dayton and Pomeroy. Ordinarily, power service could have been obtained from the Washington Water Power line coming into Pomeroy from Clarkston, but it was also down because of breaks due to ice on the wires.
Many housewives got up Wednesday morning to start the day's proceedings only to click a switch and find that they were stymied.
Officials of both the public and parochial schools had io cancel school for the day because the buildings depend on electricity to operate the heating plants.
Restaurants in Pomeroy were crowded with patrons attempting to get a bite to eat before starting the day's work. Many families who depend on power for heating purposes bundled up and went over to a neighbor's house where there was an oil or wood stove.
James Beck, Pacific Power & Light Company, district manager stated that the rugged country that some of the Dayton-Pomeroy transmission line crosses added to the time that it took the crews with their repair trucks to make the necessary repairs.
Claude DeShirley, local manager, said today that he appreciates the good natured way in which the residents of Pomeroy take the inconvenience of being without power. DeShirley assisted the crews from Dayton in making the repairs.
George Stubbs, local manager of Inland Power & Light Co. which serves most of rural Garfield county, said yesterday that so far they have been lucky on their lines and have had little trouble. Wednesday morning the power in the vicinity of Dale Turner's was disrupted, but the trouble was fixed by 7:00 a. m.
The weather condition which causes ice to form on wires, making them look like round white poles eight inches in diameter, is also raising havoc with rural telephone lines, in the county and Wednesday east of Pomeroy many lines could be seen drooping not over six feet off the ground.
A minor power outage was experienced in Pomeroy Tuesday morning when the same weather condition caused the transmission line to break on the Covello hill between Pomeroy and Dayton. This time, however, the power was only off for 15 minutes.
oo O oo