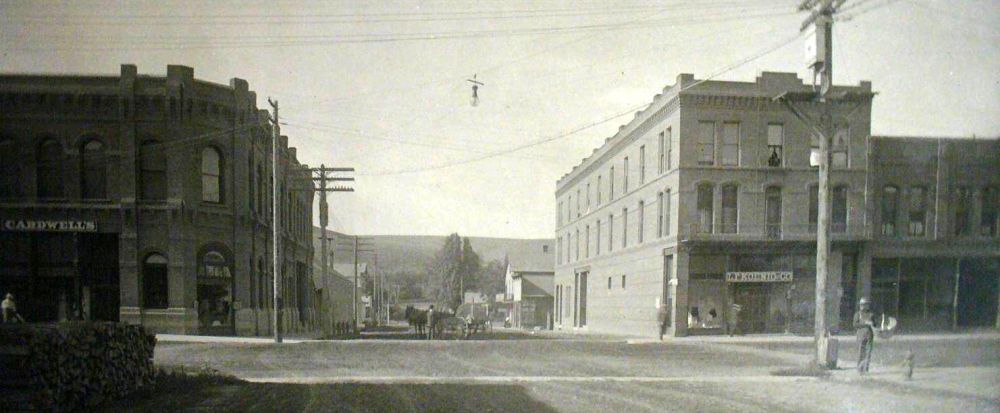 News from the
East Washingtonian
July, 1924
page 5
Around the County
MANY ENJOY OUTING IN WOODS
Teals Camp Has Sunday Visitors; Party at Columbia Center
Enjoying the cool shades and invigorating air of the mountains, at the Teale camp are, Mrs. Frank Cardwell, Mrs. L. L. Noble, Miss Ailene Cardwell and Alfred McDonald, all of whom have been in camp several days. They entertained as visitors Sunday Judge and Mrs. M. F. Gose, Mr. and Mrs. Roy Robinson, Mr. and Mrs. J. R. Stevenson, Dr. and Mrs. John Gilbert, Miss Jessie Affleck, Frank Cardwell, L. L. Noble, Mr. and Mrs. O. S. Williamson,; and Elizabeth Cardwell.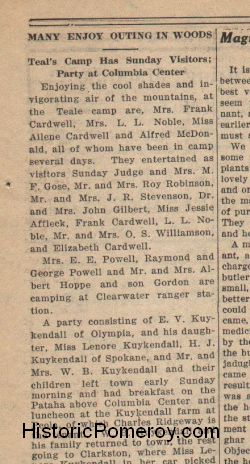 Mrs. E. E. Powell, Raymond and George Powell and Mr. and Mrs. Albert Hoppe and son Gordon are camping at Clearwater ranger station.
A party consisting of E. V. Kuykendall of Olympia, and his daughter, Miss Lenore Kuykendall, H. J. Kuykendall of Spokane, and Mr. and Mrs. W. B. Kuykendall and their children left town early Sunday morning and had breakfast on the Pataha above Columbia Center and luncheon at the Kuykendall farm at Peola, of which Charies Ridgeway is the tenant. W. B. Kuykendall and his family returned to town, the rest going to Clarkston, where Miss Lenore Kuykendall in her car picked up Miss Alexia Adams, Nellie Bryars and Katherine McFaddin for the trip back to Chenea [sic], where Miss Kuykendall is a member of the normal school faculty, and the rest are taking the teachers training course. This party had spent the week-end with relatives and friends in Pomeroy. Miss McFaddin is a sister of Mrs. Amos Bartlow.
J. W. Foster and Austin Foster are spending two weeks at Lost Trail springs.
HARVEST BEGINS AT MAYVIEW
Small Cyclone Hits Seeley Blachly Residence, Wrecks Flue
MAYVIEW, July 15.—Emory Reid started his combined harvester, pulled by a tractor, Wednesday of this week, in the wheat of Dave McDade. Sam Jensen started harvesting his grain with his- combine harvester Monday. Also Nick Huffman pulled his machine out, starting in the wheat of Henry Keatts on the Mrs. Cardwell land Monday. Chauncy Blachly also started his combine, in his grain, Monday.
Will McQueen is helping through the haying for Lewis Wade.
The unusual whirlwind or cyclone struck the Sealy[sic] Blachly residence, completely demolishing that portion of the kitchen flue above the roof, the bricks scattering over the roof and falling to the ground.
Orley Tueth, who five years ago left here to farm in Whitman county, has returned, and the first of October, will move on his father's farm at this place. Lewis Wade, who has been on the Tueth farm the last five years, will move into Mrs. Leachman's residence, having been farming her land, also, for many years.
Chester Victor and wife with her parents, Mr. and Mrs. Sylvanus Blachly of Starbuck, are off on a trip by auto to Seattle.
Miss Eula Dyke of Thornton, Whitman county, is visiting this week at Chauncy Blachly's.
Mrs. Matthews and her grandson of Lewiston, visited Mrs. Larue the first of last week, returning Thursday, Mrs. Larue accompaning them and returning here Saturday.
Grant Shelton, brother of Fred and Hollis Shelton, a one-time resident of this county, who left here some 20 years ago, was here with his family last week visiting relatives. He now resides at Yakima. Another brother with his family, from Gold-endale, was also here, and two sisters, one being a resident of California. All assembled at the home of Hollis Shelton last Sunday for dinner.
Miss Gladys Morton Hostess
Miss Gladys Morton entertained a number of her friends at her home Tuesday evening. Games were played and refreshments served. Those present were: Harry Bartlow, Red-ford Bartlow, Lowell Kuykendall, Delbert Read, Archie Bryan, Roy Oliver, Worth Bryars, Mrs. F. N. Morton, Mrs. C. E. Kuykendall, and the Misses Iva Stallcup, Alice Beale, Lily Mae Couch, Esther Bryars, Betheen Read and Gladys Morton.
Personal Mention
Frank Hall has been looking after the business in the clerk's office during the absence of Miss Edith Hall, who has been attending the state convention of county clerks at Mt. Vernon.
L. F. Buchet has gone to Spokane to consult an eye specialist.
Dick Scarbrough is the owner of two spotted colts said to contain Arabian blood, which he expects to develop into fine saddle horses.
When cranking a truck Saturday, Elliot Richardson was hit in the face by the crank, the result of a backfire, and some of his teeth broken out and his mouth badly cut.
Miss Ernestine Houk and Mrs. Eari Dean visited friends in Dayton over Sunday.
E. M. Spedden has been here from Chewelah visiting his mother, Mrs. Clara Lanning.
Deputy Sheriff James Patterson accompanied by Mrs. Patterson will leave Saturday to attend the state meeting of sheriffs at Seattle.
Mrs. Alva Nicholson and children will leave in a few weeks to join Mr. Nicholson at Everett and make their home there.
Mrs. Grace Cardwell has returned from Colfax, having recovered from a major operation in the hospital there.
The firm of Vassar & Zinn this week moved its stock of foxes to the farm below town.