World Renowned Violinist Alex Skovgaard to Appear in Pomeroy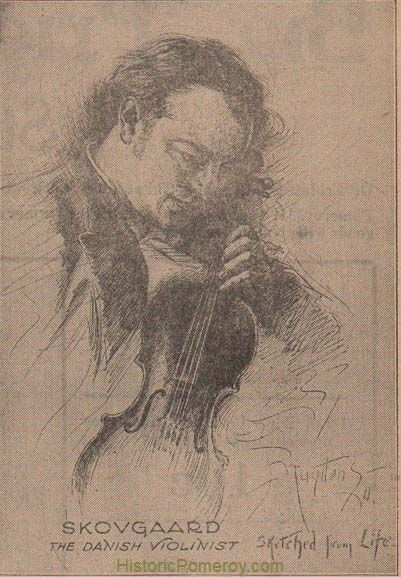 Alex Skovgaard will appear here June 3[, 1924], under the auspices of the Epworth League. The New York Sun says concerning him: "Skovgaard has reached the point where he is above criticism. His training is that of the consummate musician, the finished, polished, purposeful. The innate genius of the player is that which attracts. It is the genius of a lover of music intellectually."
His beautiful violin, made by Antonius Stradivarius in 1712, cost him $13,000 and Skovgaard is a perfect master of his instrument. At the age of fifteen he was first violinist in the Philharmonic orchestra of Copenha­gen. He played leading parts throughout the Scandinavian countries, Holland, Germany, England and Belgium. He made his first appearance in America in 1903 and has toured the leading cities of America since that time.
His wife, Alice McClung Skovgaard is an American and a pianist of remarkable versatility. She not only accompanies her husband but renders several groups from the best composers. Since a mere child she has de­lighted many public audiences with her musical interpretations as well as by her modest dignity. This will be a rare treat, which no lover of music can afford to miss. The usual price of admission is from one to three dollars, but owing to the conditions under which they come here the Epworth League has placed the price of all tickets at fifty cents.