Summer 1920
Page 1
CENSUS FIGURE FOR COUNTY UNDER 4000
Classification Cuts Sheriff's Salary,
but Increases Pay of Other Officers
That the census figures for Garfield county will indicate a population less than 4,000 is shown by information which has come to the county auditor from the secretary of state. The secretary, having received advance information from the census department, advises the auditor that Garfield county is in class eight--less than 4,000. Ten years ago the census gave Garfield county 4,199. Asotin and Columbia counties are in class 6.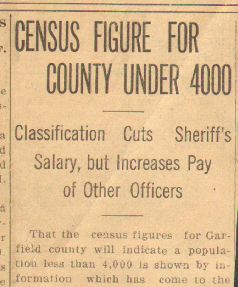 Since the salaries of county officials are based on the census reclassification, this is a matter of considerable importance to candidates. The increase however is not what was hoped for and in one office, that of sheriff, there is a decrease of salary. The sheriff now receives $1050, but after Jan. 1, 1921, when the new salary schedule becomes effective, he will get only $1,000. The clerk's salary, now $900 a year, will remain the same. The auditor, now receiving $1050, gets a lift to $1200; the treasurer goes from $1000 to $1200 and the school superintendent and attorney go from $900 to $1200.
The per diem of the assessor and county commissioners goes from $4 to $6, and of the county Engineer from $5 to $6.
Advance information on census figures is furnished the county auditor for use in computing filing fees for candidates for public office.
The fee for filing as a candidate for county office is $10 for those offices where the salary does not exceed $1000 annually, and 1 per cent of the annual salary where the compensation is greater than that amount.