Historic District Downtown Building Inventory
Garfield County Courthouse (Site ID 13)
Classification: Historic Contributing
Main Street

In November 1900, the citizens of Garfield County authorized a $20,000 bond for the construction of a new courthouse in Pomeroy to replace the wooden structure that was lost in the 1900 fire. Prominent Albany, Oregon, architect Charles H. Burggraf was hired to design the new courthouse, and bids were open for the project in March 1901. August Use of Spokane was awarded the contract with a bid of $18,783. The specification called for brick and stone construction; the stone was quarried locally from the Valentine Ridge area near the Snake River. The statue of justice that caps the dock tower is only one of twenty statues nationwide where the justice figure is not blindfolded. According to the 2 August 1904 City Council minutes, authorization was given to install a dock in the clock tower.

A Civil War statue, erected by the G.A.R., was placed in front of the courthouse in 1904 at the Fourth of July celebration. Due to deterioration, the statue was removed in the 1950s. In 2000, the VFW Post #2351 and the Garfield County Pioneer Society funded and dedicated a new bronze Civil War statue that now graces the courthouse lawn. The statue rests on top of the original marble base that is engraved with the names of the county's veterans.

Erected in 1901, the two-and-one-half story Queen Anne style Garfield County Courthouse has a flared hiproof with intersecting hips and gables covered with composition asphalt shingles laid in a fish scale design. The brickbuilding has corbeled brick chimneys, overhanging eaves supported by modillions, decorative brick frieze, one-over-one double-hung wood sash windows with flat arch lintels, a double projecting brick stringcourse separating the stories, and an ashlar stone foundation. A three-story clock tower embellishes the front (south) elevation and has a domed roof topped with a justice statute, a clock recessed in a pointed arch, fanlight window, tripartite window on the second story and an open arch in the basement level.

Another polygonal tower with a conical roof is on the west end of the front elevation and has fanlight windows, a frieze with circular recesses, and ornate glass window panes. The east elevation is decorated with a round bay. The south projecting entrance bay is capped with an open porch and rail, and has an arched window above the entrance opening. The main entrance doors are recessed in the bay. A three-story concrete block elevator shaft was added to the rear (north) elevation in June 1999. An expansive terraced lawn area is in front of the courthouse that has a central stairway lined with shrubs leading to the main entrance. Tall coniferous trees are on the west side of the lawn and a bronze Civil War Infantryman statue on the east side. A parking area, excavated in 1949, is on the north side of the courthouse. The Garfield County Courthouse was listed in the National Register of Historic Places in 1977.

Accessory Structure: A two-car garage is located west of the courthouse. The building has a gable roof covered with seamed metal siding and wood siding. A small metal shed is south of the garage. Both accessory buildings were constructed outside the period of significance and are Non-Historic, Non-Contributing structures to the site.

Cultural Data based on
research by Donovan & Associates
1901 after the Pomeroy fire. This picture was taken from about where the current Garfield County Courthouse now sits.
The shell of a building with "MERCANTILE COMPANY" still visible is where Meyers' Hardware now is, the tall brick building at the right end of that block is the "Cardwell Building" and one building to its right is the original St. George Hotel (now Hotel Revere) prior to its move south one block.
This view shows an early view, unpainted, of the Garfield County Courthouse Courthouse. This same postcard, but a different copy because the pencil writing is not there has been seen on eBay annotated with "Postally Used, PM 1907".
I am placing this shot of the Garfield County Courthouse between the 1907 shot above and the 1912 based on what's been painted and what hasn't. Also the River Rock that holds up the lawns hasn't been concreted over yet, as in the next picture. Unfortunately the image is small. I wonder if the man on the lawn is an early tourist or perhaps a native Pomeroyite.
1912 or earlier. (Stamp on back is cancelled December, 1912.)
1913/1923

The eBay description of this postcard "This is a real photo postcard that shows a view of the Court House in Pomeroy, Washington. No. 5. Garfield is written on the building. Sent to Miss Edith Harding in Savannah Missouri from Ora. Used in 1923, divided back." The same card was in another eBay auction where it was described as having been cancelled "July 3, 1913."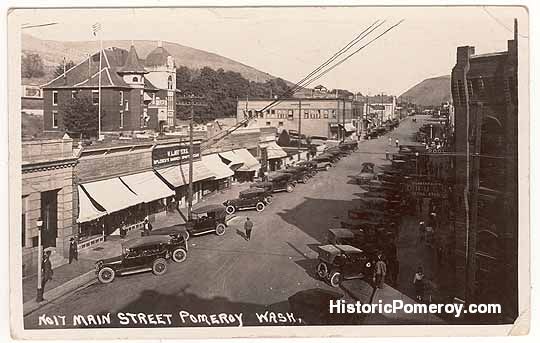 Taken from the roof of the Hotel Revere, here is Main Street and the Garfield County Courthouse.
This picture has been dated (by ??) as the 1930s.
From the 1940s, here's yet another picture of an unpainted brick Court House.
From the Early 1940's?
This is the original statue that sat on the lawn of the Courthouse. It can (barely) be seen in some of the postcards on this page.
I don't remember and didn't take note of who sent this to me, but this is the only picture I have with what appears to be some kind of a message or bill board on the County House lawn.
According to the eBay description of this item, this post card was postmarked in 1954.
Undated, but still unpainted.
Remember the Civil War Soldiers?
An article in an August, 1975, issue of the E-W gives us this information on the statue and the monument:
"The Civil War veterans monument on the Garfield County Courthouse lawn was erected by the Grand Army of the Republic in 1905 to honor veterans who had moved to Garfield County. Because of this it is an unusual monument. The photo [above] shows it during the 1930's before the face was damaged and the soldier taken down, around 1940, according to Bob Beale who supplied the photo. The four sides each name veterans and their detachments. How many do you remember?
"Front side, facing south: Roster of Deceased Comrades: Michael Collins, David Garrett, Cyrenus Hand, Thomas Ryan, Col. R.R. Spedden, John W. Conwell.
"East side, Roster, Ex. Soldiers buried in Garfield County, non-members of post: J. Ashcraft, J. Ankrim, J.C. Bramley, H. Henderson, R.H. Howard, N. Kassell, J.F. Kidwell, J.W. Killen, F.R. King, Ranson Long, T. J. Mewhinney, W.P. McKey, A.G. McPherson, S.L.Nye, N.S. Patterson, W.C. Potter, D.H. Poyner, Joel Shearer, Henry Snodderly, J. Thomalson, Eli Thornton, James Waugh, N.C. Williams.
"Back side, north, Roster, McDowell Post No. 22, Department Washington & Alaska (G.A.R.): John W. Ball, C.H. Bingham, G.W. Black, J.D. Brooks, John C. Burns, Joseph Clarey, M.M. Corey, S.G. Cosgrove, Patrick Fitzgerald, J.P. Freeburn, F.W. Geiger, G.D. Gibson, Frank Gowen, E. Halterman, J.W. Hardin, S.K. Hull, G.W. James, Leroy Johnson, A.H. Keith, J.G. Kimball, Peter Kuhn, J. T. Malcolm, D.B. Messenger, R. Messenger, Joseph Miles, Lieut. John Mitchell, H.M. Morris, N. Morris, Frank McNeal, W.R. Neal, G.R. Pomeroy, J.B. Purcell, John R. Roth, Michael Russell, I.H. Shreffler, D.H. Teetrick, H.C. Thompson, John Thompson, J.H. Walker, George Zinn.
"West side, Ex soldiers living in Garfield County, non-members of post: George Bagley, Peter Brady , C.D. Burt, L.B. Courtney, William Gammon, John W. Grayson, S. Hays, Henry Hender, R.S. Howard, M.N. Jeffreys, D.P. Kidwell, S.L. Malcolm, P.G. Miller, John Mitchell, Henry Mulch, W.T. McFall, Joseph Nevil."
Now we jump a bit in years to the mid '70s. This picture was taken by Florence Sherfey to illustrate her book This Was Their Time, still the definitive popular history of Pomeroy. The picture quality isn't that good, but it's obvious that this building could disappear in a snowdrift.
According to an
article in an August, 1982, issue
of the
East Washingtonian
, county commissioners had recently met with Pomeroy mayor Wynne McCabe to discuss putting the bust of Governor Cosgrove on the plinth that formerly held the Civil War veteran statue.
I'm not sure where this image came from, but a relatively new picture as Governor Cosgrove has been replaced by the Civil War soldier. It looks like the giant evergreens were still there as well.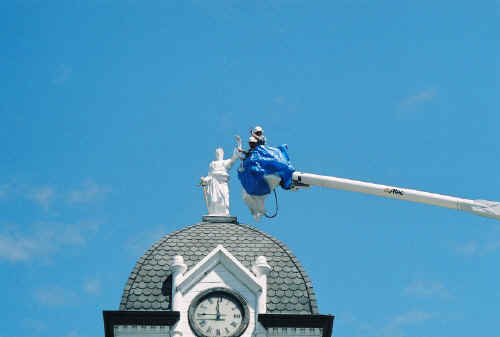 During a windy storm in Pomeroy early in 2003, the scales of justice were knocked off the statue on top of the Courthouse. They were reattached during June 2003. According to former Judge William Acey of the Hells Canyon Circuit Court there are only 14 "Unblinded" Justice statues on court houses across the U.S. and 4 of them are in SE Washington. Pomeroy has one and the Columbia County Court House in Dayton has two.
When the Civil War veteran statue was replaced, poor Governor Cosgrove was relegated to apparently climbing out of a manhole in front of the Garfield County Museum. (He doesn't look too happy about the displacement.)
Here's the plaque that described the Governor.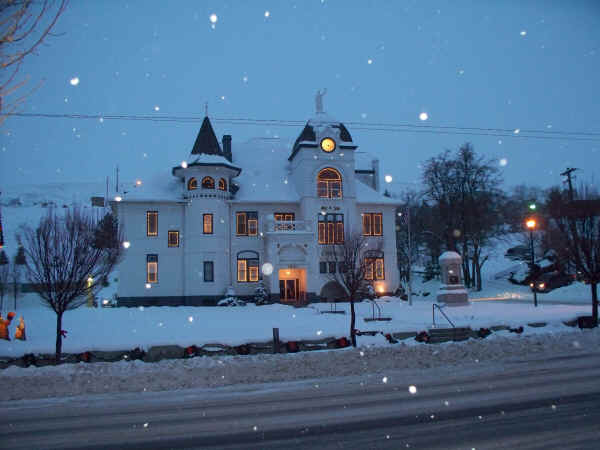 This picture was taken on Christmas eve, 2008, during one of the worst winters in recent history
This Web site has been financed by Castlemoyle Books and Gifts for the Pomeroy Historic Preservation Committee.
The Committee gratefully acknowledges donations of time, photographs, scans, and other
assistance from the Garfield County Museum and individual citizens of Pomeroy and Garfield County.

The Pomeroy Historic Preservation Committee
66 South 7th Street
Pomeroy WA 99347
Copyright © 2002-2022 John R. Gordon